We Tried Jimmy John's 2 Newest Sandwiches. Here's What We Thought.
Jimmy John's, the freaky fast and freaky fresh chain slinging subs and baking bread daily, just announced two brand-new subs that have found a home on its permanent menu: the Jimmy Cubano and the Spicy East Coast Italian. 
It's not every day that Jimmy John's adds a new sandwich to its menu, let alone two at the same time. So, as the indefatigable sandwich connoisseurs that we are here at Thrillist, we decided to dive in and see if Jimmy John's fresh spins on two classic sandwiches hold up. Here's what we thought:
The Spicy East Coast Italian
This... this right here is a balanced sandwich. The meats were proportional to the cheese and not overly salty, thanks to the refreshing shredded lettuce and sliced tomatoes, as well as the bite of raw slivers of onions. Nothing felt overpowering -- it wasn't too vinegary, too meaty, or too cheesy. When I think of a classically delicious sandwich, this reinterpretation would definitely come to mind.
Now, if this were just called the East Coast Italian, this review would be over and done with. It's a solid sandwich and I'm happy to have eaten it. However, the key word here is spicy -- and that is something this sandwich is not. The hot cherry peppers in my sandwich were so sparse that I could hardly tell if they were there at all. Aside from a few bites that had the tiniest bit of heat, I didn't feel like this reinvention of an Italian could really call itself spicy.
Part of me thinks it's because I have an affinity for spicy foods and therefore I am easily disappointed if my expectations are not met. But peeling back Jimmy John's delicious and soft bread only revealed a minuscule amount of peppers. It could've just been my local Jimmy John's, but if there is one critique I could give, it'd be more peppers -- more heat. If you're going to dub a sandwich as spicy, make sure it can live up to its name.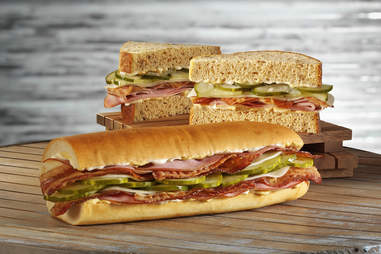 Courtesy of Jimmy John's
The Jimmy Cubano
I love a good Cuban sandwich. The Floridian combination of ham, cheese, and pickles is so simple but perfectly complementary when executed correctly. Jimmy John's adds a twist and includes strips of bacon, which brings a new texture and deeper savoriness that I can appreciate.
Several bites into this sandwich, however, my throat started to go a bit dry. The abundance of ham, cheese, bacon, and mustard felt overly salty; the generous serving of pickles was my only reprieve. Even with the delectably tangy pickles, I felt like I needed some shredded lettuce or tomato slices -- something to lighten the saltiness. I know that would be against the rules of a real Cuban sandwich, but hey, this one already has bacon, so why not break a few extra rules and add something fresh?
Yes, I ate two sandwiches for lunch
Despite the saltiness of Jimmy John's Cuban and the lack of heat from the Spicy East Coast Italian, I have to say: as always, Jimmy John's has perfect bread and the hand-sliced meats and cheeses really make a difference. I can tell that the ingredients are fresh and the sandwich all together is thoughtfully made.
Next time, if I have a hankering for a cuban or spicy Italian, I'll just customize my sandwiches to adhere to my desires: more chiles and more fresh veggies.
If you haven't tried Jimmy John's latest offerings, I'd recommend them; just make sure you ask for extra peppers on the Italian!
Sign up here for our daily Thrillist email and subscribe here for our YouTube channel to get your fix of the best in food/drink/fun.
Kat Thompson is a staff writer at Thrillist. Follow her on Twitter @katthompsonn.