Jimmy John's Just Launched a New Line of Pickle-Themed Merch
The fast food chain is also offering free pickles in honor of National Pickle Day.
There are two types of people in this world, those who love pickles and those who don't. If you're not a pickle lover yourself, then you're probably familiar with one. We all have a friend that consistently asks "Are you going to eat that pickle?" whenever one presents itself over lunch.
With National Pickle Day approaching on November 14, the Big Pickle industry has been hard at work promoting its vinegar-soaked product. One of the largest pickle brands, Vlasic, recently announced it would release a pickle jar-shaped candle to celebrate the occasion, and now fast food chain Jimmy John's is following suit with its own line of pickle-related products. Oh, and a promotion for free pickles. Read on for details.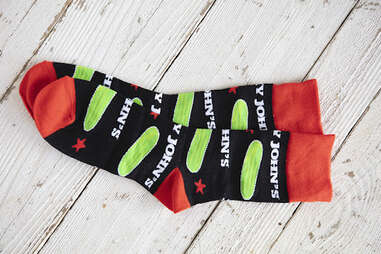 The products include everything from clothing items to Christmas ornaments. You can grab a pickle-patterned fanny pack for your friend who's constantly on the go, or maybe something more subtle like pickle-patterned socks would be a better fit. Of course, if none of those sound appealing to you, there's a bucket hat option on the table as well.
Whatever you decide on, be sure to let the pickle lover in your life know that Jimmy John's is offering a free pickle to all its Freaky Fast rewards members on November 14.
All of the company's pickle-related merchandise will be up for grabs on its website for just a short while, so you're going to want to grab some before pickle stan Twitter finds out about it. They're a ruthless bunch.