The Owner of Arby's, Buffalo Wild Wings Is Buying Jimmy John's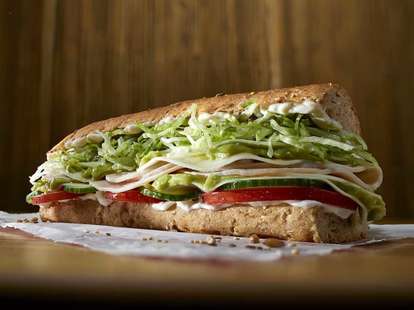 Courtesy of Jimmy John's
Courtesy of Jimmy John's
In the age of capitalism, where few private companies own basically our entire lives, it's not entirely shocking for another business to get bought out. Mergers are everywhere -- I mean, we've all seen Succession, right? Different industry, same formula.
Inspire Brands, the parent company of Arby's, Buffalo Wild Wings, and Sonic Drive-In, has officially entered into an agreement to add another food business to their portfolio: Jimmy John's. The companies announced on Wednesday that the acquisition was approved by Jimmy John's board, including the founder and chairman of his namesake brand, Jimmy John Liautaud.
"Jimmy John's has found the ideal home at Inspire," Liautaud said in a press release. "Inspire's long-term approach, culture of innovation and commitment to helping brands grow sets it apart from the rest. I couldn't be prouder of the company we've built, and I can't wait to see what Jimmy John's is able to accomplish under Inspire's leadership."
Liautaud is expected to step down from his role as chairman and shift into an advisory position when the deal closes by the end of October.
We don't necessarily know what this will mean for the sandwich franchise, but we do know that following this transaction, Inspire will be the fourth-largest restaurant brand in the United States, with approximately $14 billion in sales annually and over 11,200 restaurant locations around the world. That's a lot of sandwiches.
Not that we have any worries about this, but let's just hope the bread remains as fresh as usual and the sandwiches continue to be "freaky fast."
Sign up here for our daily Thrillist email and subscribe here for our YouTube channel to get your fix of the best in food/drink/fun.
Kat Thompson is a staff writer at Thrillist. Follow her on Twitter @katthompsonn.