Jimmy Kimmel's United Airlines Safety Video Parody is Brutally Hilarious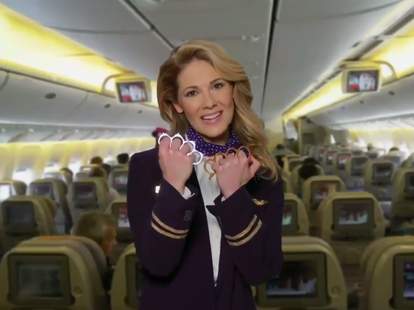 Screenshot via YouTube/Jimmy Kimmel Live
Unless you've been in an Internet-less cocoon for the last 24 hours, you've undoubtedly heard about the passenger who was violently dragged from his seat on an overbooked United Airlines flight on Sunday, and the fierce backlash against the company that's ensued since multiple cell phone videos of the incident circulated widely online. In response, many are calling for a boycott of the airline, and others have taken to Twitter to mock and shame the company for its tepid response to what appears to be a grossly mishandled situation.
Not to be left out of the conversation, Jimmy Kimmel chimed in last night with a brutally hilarious parody of United's in-flight safety video.
In the clip, a friendly-looking flight attendant ticks off a series of no-nonsense and violent consequences for not doing "what we say when we say" through an unflinching smile, before introducing the company's beautifully profane new motto.
Can't help but assume this isn't doing much for United's currently tanking market value.
Sign up here for our daily Thrillist email, and get your fix of the best in food/drink/fun.
Joe McGauley is a senior writer for Thrillist who's had nothing but truly awful experiences on United.