How You Answer the Toughest Interview Question of All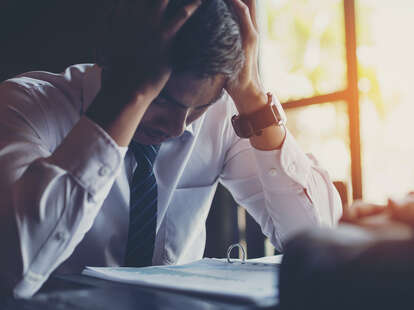 A broad spectrum of things could turn up in any background check when you're interviewing for a job, and not all of them will be pleasant, especially the age of social media. You can head some of it off at the pass by scrubbing Facebook pages or old tweets, but that effort becomes a lot harder if you've done any kind of jail time. The vast majority of job candidates who run afoul of the law -- for any reason -- will have to answer for it come interview time, and if that's you, you'll have to be prepared.
According to a new study by researchers at Michigan State University, the best thing you can do in this scenario is come clean. The study's lead author, MSU doctoral student Abdifatah Ali, explains: "Apologizing for your past criminal offense seems to be the most effective strategy in reducing concerns about your underlying trustworthiness as a person of integrity."
The research published in the Journal of Applied Psychology analyzed the reactions of more than 500 participants parsing job applications or watching video of job interviews, across three separate studies. The studies offered different response to the question of prior criminal activity. Applicants could either...
Make excuses for their actions -- "I was not responsible for the incident because I was at the wrong place at the wrong time."
Justify their actions -- "I accept responsibility because I should have not been involved, but I got involved because I was trying to help a family member."
Apologize for their actions -- "I should not have been involved and I understand what I did caused harm. I apologized and promised it would never happen again."
Compared to the other responses, the apology overwhelmingly won over the sympathy of job interviewers, followed by justification. Abdifatah and his co-authors Ann Marie Ryan and Brent Lyons found that making excuses decreased chances of getting hired significantly, since that course failed to minimize any of the stigma associated with past criminal activity.
Abdifatah's research sought to address how job candidates with criminal records come off to an interviewer. From a potential employer's perspective, honesty is important, but so is a redemptive arc and presenting yourself in a non-threatening way. Like it or not, those with criminal records have additional psychological barriers to cross. "From a counseling standpoint there aren't any evidence-based strategies of how to best present themselves in those situations," Abdifatah said.
Of course, that's if you can get as far as a job interview. It's worth pointing out that 24 states have still not adopted "Ban the Box" -- a practice that removed criminal history questions from job applications and delayed a stigma-fueled line of questioning until further in the hiring process. And if you don't think defeating that hurdle is all that common, the numbers tell a different story. According to MSU's report, approximately 70 million people in the United States have some record of either a prior arrest or conviction -- almost 1 in 3 adults.
If you're an employer, that's a lot of potential talent to slam the door on. If you're a candidate, one apology can go a long way.