These Are the Best Cities to Find a Job in 2019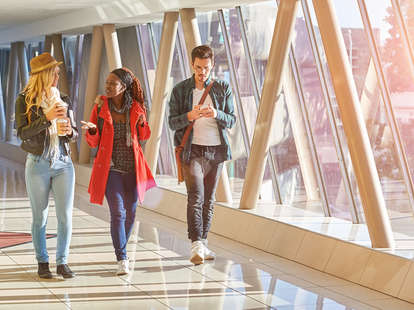 It's a new year, baby, which means it's time to start making good on those resolutions to, say, travel more, spend less money on pizza, and stop texting like a sociopath. And if you spent last year in a job you hate or, worse yet, you were forced out of one you loved, now's as good a time as any to fire up your search for a new one.
Contrary to what baby boomers may think, finding work (especially good work!) is hard, and can be all the more difficult depending where you live. Lucky for everyone currently on the hunt, WalletHub has collected a wealth of data about which cities are best for finding new job opportunities in 2019.
How on Earth did they gather all this info? With the help of other studies, like the U.S. Bureau of Labor Statistics' recent job report and one from the National Association of Colleges and Employers. According to those studies, unemployment has fallen to an 18-year low of 3.7%, hiring is up and those of you who anticipate graduating college in 2019 will have a better chance than ever of getting a job than those who came before you. Lucky you!
The information is decided through a number of factors. The key ones taken into consideration include the overall number of jobs available, represented in the job market score, and a socio-economic rank, which breaks down the cost of living.
By now you might be wondering why, if all that is true, you've been unsuccessfully looking for a job for however long. The answer, eager prospective worker, may be that you simply live in the wrong place.
Contrary to popular belief, big cities like New York and Los Angeles aren't necessarily the best to find jobs in. Crazy, we know. In fact, WalletHub ranks the Southwestern city of Scottsdale, Arizona as the No. 1 best place to find work. Before you pack up your studio apartment and head for the desert, the site's rankings include 181 other cities and yours may just be listed.
Have a look through the interactive map below and see where your city ranks.
Here are the top 10, according to WalletHub:
1. Scottsdale, Arizona
2. Columbia, Maryland
3. Orlando, Florida
4. San Francisco, California
5. Colorado Springs, Colorado
6. Portland, Maine
7. Plano, Texas
8. Washington, DC
9. Boston, Massachusetts
10. Chandler, Arizona
In addition to letting job hunters know where they'll have the best chance of finding a new job, the study shows which city has the least (Fresno, California), which has the most opportunities for growth (Colorado Springs, Colorado), which offers the highest and lowest median income (Gilbert, Arizona and Miami, Florida respectively), and where you can find the most reasonable cost of living (Cedar Rapids, Iowa).
If you're looking to start anew professionally this year, now's your chance. Start combing over the data and looking for your dream job. But at the very least, you should start spending less on pizza.
Sign up here for our daily Thrillist email and subscribe here for our YouTube channel to get your fix of the best in food/drink/fun.

Caitlyn Hitt is Daria IRL. Don't take our word for it -- find her on Twitter @nyltiaccc.