Jones Soda Is Launching Weed Edibles & That Includes Versions of Its Sodas
Jones Soda will start selling weed-infused sodas in a variety of flavors.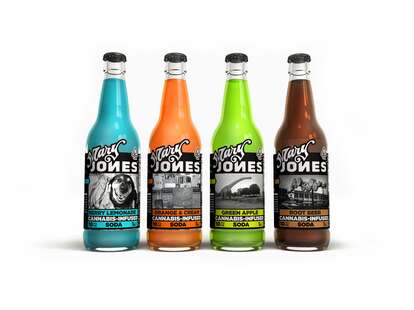 Photo courtesy of Jones Soda
Photo courtesy of Jones Soda
Jones Soda is one of the most recognizable craft sodas on shelves. Sure, that doesn't mean it's hanging with a brand like Pepsi that has enough dough to run the Super Bowl Halftime Show, but the bright colors, unique flavors, and fun labels have generated a long-running legion of Jones lovers.
Jones is hoping to draw in a whole new legion with its entry into the world of weed. Jones Soda has launched the Mary Jones brand, which will carry 16 different flavors of single and multi-dose weed-infused soda and edibles. In addition to weed-infused soda, it will also have a syrup and gummies in the four most-popular Jones flavors.
The new sodas will launch in California with a variety of flavors and dosages. You'll find them available in:
A 10mg soda, which is considered a single dose. It's a 12-ounce bottle sold in a four-pack. This is basically the usual craft soda with cannabis.
A 100mg soda, which Jones says has ten servings in a 16-ounce bottle.
A four-ounce, 1,000mg syrup tincture that can be added to drinks, food, or taken in a small dropper.
Gummies that land at 5mg each. They're sold in a 20-count package of Jones Soda-shaped gummies.
All of those will be available in Root Beer, Berry Lemonade, Green Apple, and Orange Cream flavors. There will also be a selection of seasonal flavors that are planned for the future.
While this is an expansive launch—at least, in terms of products—Jones says that it's the "first step" in a rollout that will include more products, flavors, accessories, and a planned "expansion into all legal adult-use states."
You'll be able to grab a Jones-flavored weed treat at California dispensaries starting on April 1.