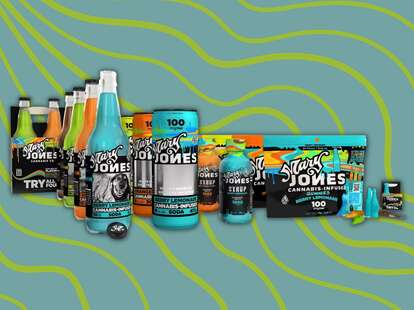 Edited - Courtesy of Jones Soda
Last summer, Jones Soda dipped its brightly colored soda toes into the weed market. It debuted a new soda called Mary Jones, which was exclusively available in California.
Now, Jones Soda has announced it will expand its distribution of Mary Jones. Its recognizable glass bottles will slide onto dispensary shelves in Washington, the company's home state.
In addition to it being the company's home, Jones says that the recreational weed market in Washington had sales totaling roughly $1.5 billion in 2021, and projections indicate it could be as high as $2.5 billion by 2025.
Jones Soda has a dedicated following of craft soda drinkers thanks to its unique flavors, bright colors, and labels featuring user-submitted photos. It brought that same template to its new edibles line. Mary Jones launched with four flavors, including Root Beer, Berry Lemonade, Green Apple, and Orange Cream.
Those flavors are available in a four-pack of 12-ounce 10mg sodas, a 16-ounce 100mg soda, a four-ounce 1,000 mg tincture, and 5mg gummies. The brightly colored sodas will arrive at Washington dispensaries sometime in early 2023.