NASA's Juno mission to Jupiter continues to produce great science, but it has also shared gorgeous images that are easily among the most striking space images of recent years.
The latest image returned from the Juno space probe shows, as NASA says, the "dramatic atmospheric features" found in the gas giant's northern hemisphere. The close-up of the Jupiter atmosphere shows swirling clouds around a "circular feature within a jet stream region called 'Jet N6.'" (Get an extra view of Jet N6 below in a photo from 2018.)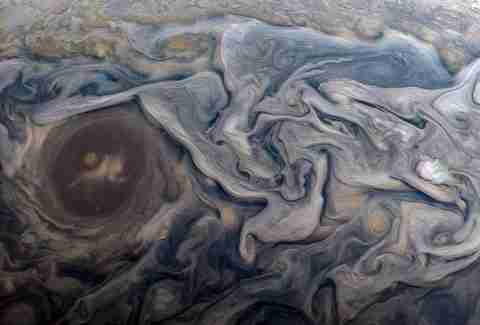 The image was taken on February 12 during the spacecraft's 18th flyby of Jupiter. Juno has been orbiting our solar system's largest planet since the summer of 2016. NASA says the probe was just 8,000 miles from the clouds of the planet when it snapped the stunning picture, which was color-enhanced by "citizen scientist" Kevin M. Gill with data from the JunoCam imager. The data and images are publicly available for anyone to process or dig around in like a digital sandbox filled with space data. 
With the 18th flyby complete (they take place about once every 53 days), there could be more images on the way and there will certainly be more before Juno completes its mission and crashes into Jupiter in July 2021. Shortly after that crash, the European Space Agency (ESA) will launch JUICE (Jupiter Icy Moons Explorer) to orbit the planet in June 2022.
Sign up here for our daily Thrillist email and subscribe here for our YouTube channel to get your fix of the best in food/drink/fun.