These New Egg-Less Eggs Are Shaking Up Breakfast. Here's What They Taste Like.
Plant-based proteins have been taking the world by storm, one meat-less burger at a time. Burger King unleashed the Impossible Whopper nationwide. Del Taco has minced up vegetarian-friendly Beyond tacos. Even Dunkin' has a plant-based "sausage" breakfast sandwich.
So, it should come as no surprise that other forms of plant-based proteins are coming to the table, including eggs. Enter Just Egg, a vegan "egg" in a bottle that's about to flip breakfast on its head.
Vegan... eggs? What's it made out of?
Similarly to Beyond Meat and Impossible Foods, Just Egg is composed of plant-based proteins. Mung bean is the main ingredient, though onion is also included for flavoring and carrots and turmeric are added to give Just's Egg its egg-like yellow glow. Of course, since it's not from a chicken, it also has some hard-to-pronounce ingredients too, like tetrasodium pyrophosphate, transglutaminase, and nisin. The main ingredient however -- what really makes the product -- is the aforementioned mung bean, a bean commonly found throughout Asia and often used to make desserts. Mung bean provides Just with a characteristically eggy texture.
Like eggs, Just contains a fair amount of protein -- 5g per serving -- but has no cholesterol. These "eggs" aren't just for vegans; they could be for egg-lovers who need to cut their cholesterol intake. The eggy stuff is also for those who want to lessen their environmental impact, according to the company.
"Given the damaging effects of industrialized agriculture and farming on the environment, we need to find more sustainable solutions to feed our growing population in a safe and healthy way," said the Culinary Team at Just. "Our R+D team of world-class scientists and Michelin-starred chefs have spent the last six years building a unique database of plant proteins that have the potential to replace animal-based proteins in the foods we consume every day."
That very research is how Just discovered that mung beans -- like eggs -- can gel and coagulate, and led the company to isolate mung bean's protein and make it "behave like an egg protein... when scrambled in a pan."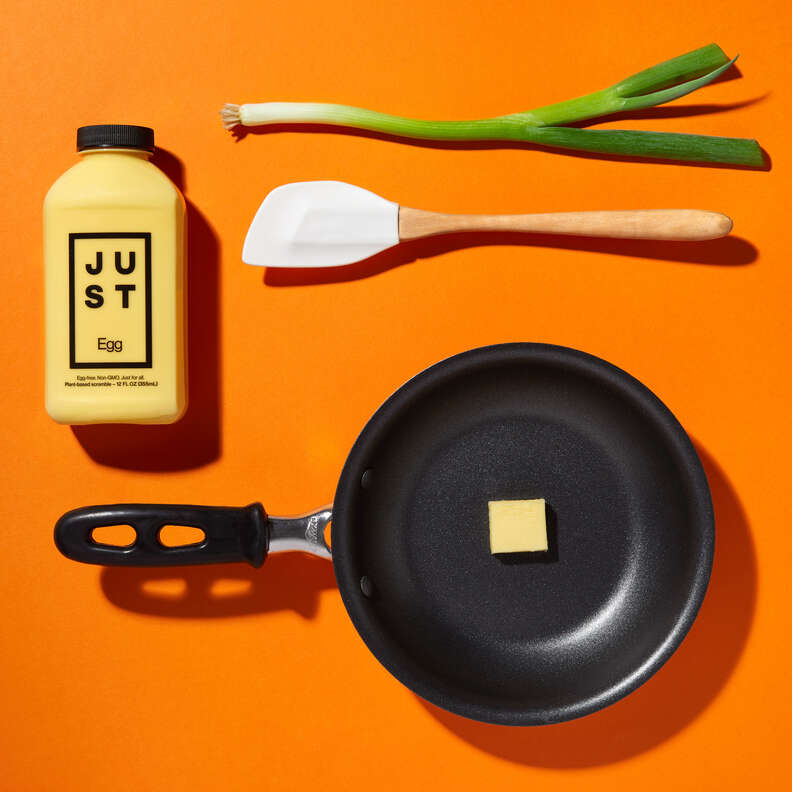 So how do you cook it? What does it taste like?
I cracked open a bottle of Just in the morning and was admittedly hesitant. I love eggs for breakfast, but something about eating eggs poured from a bottle has never appealed to me -- even from a bottle of real eggs. Here, I was diving into the unknown world of mung bean eggs. But I love mung beans, and I love eggs; how odd could it be?
The smell was actually inviting. The "egg" mixture sort of smelled like an MSG-packed bowl of instant ramen, and I mean that in the best way possible. I greased up a pan and poured in the yellow liquid, delighted to hear the chorus of bubbling oil as the mixture spread. At first, the faux eggs looked more like pancakes or crepes, but soon enough, curds formed and the "eggs" actually started to look like... eggs. I sprinkled in salt and pepper as I would for regular eggs and scrambled away.
One of the challenges of making these fake eggs was deciding when they were finished. The bottle suggests you cook the Just Egg thoroughly, which may turn off those who prefer their scrambled eggs soft -- aka me.
The texture was also a bit challenging. While the flavor of the mung bean eggs could actually pass for real eggs, the texture was gritty in some bites, stringy in others. It felt as if I scrambled the eggs with a breaking cheese sauce, making for an unpleasant mouthfeel. It was nothing like the fluffy texture you expect from a plate of scrambled eggs.
That being said, it was saved by a heaping spoonful of chili crisp, and I think it would fare well in a sandwich, with some fried rice, or used as batter for French toast. As long as there are other textures to mingle with the "eggs," the flavor can carry itself. Tim Hortons recognized this, and is one of the first big chains to partner up with Just Egg to release a vegan breakfast sandwich.
OK, I'm interested. Where can I try this?
For $7.99 -- well above the price of regular eggs -- you can get a bottle of Just Egg at almost any grocery store nationwide and start creatively making your own plant-based egg dishes. It's carried at Albertsons, Whole Foods, Sprouts, and more.
If cooking isn't your forte, Just has also teamed up with a number of restaurants and chains, with seemingly more to come. As of now, Just is sold at Bareburger locations, Veggie Grill, and -- as mentioned earlier -- participating Tim Hortons.
"In a matter of months, we've sold the plant-based equivalent of 10 million chicken eggs and we're poised to launch our JUST Egg product globally," a representative for Just said.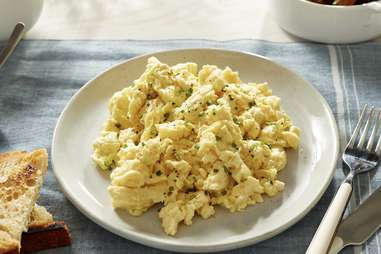 Eggxactly* what the planet needs
The texture of Just hasn't completely won me over yet, but I think this is a good start for plant-based eggs. The flavor is passable, and the texture is tolerable when combined with other ingredients.
Just Egg isn't recommended for baking quite yet, but when reached for comment, the company said it's "working on it!" It'd be interesting to see if Just releases any other "egg" products for people who aren't as into scrambled (I prefer over easy eggs always -- plus what if I need a soft boiled egg in my ramen?).
As with Beyond Meat and Impossible Foods, if we can reduce our dependence on animals -- even by eating an Impossible burger, Beyond taco, or Just Egg sandwich every once in a while -- strides can be made to better our food systems and create more sustainable options.
"The food system needs new tools to improve the way people eat," the Just culinary team said. "We realized that those tools can be found in the vast world of plants."
* Did you really think you'd get through this without an egg pun?
Sign up here for our daily Thrillist email and subscribe here for our YouTube channel to get your fix of the best in food/drink/fun.
Kat Thompson is a staff writer at Thrillist. Follow her on Twitter @katthompsonn.