Justin Bieber Is Officially Banned From China for Bad Behavior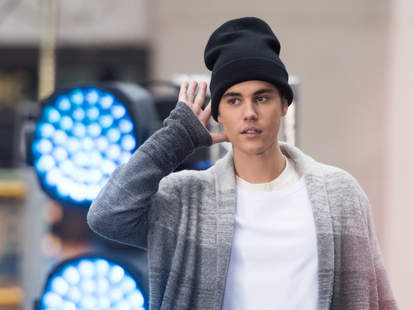 Getty/Getty Images Entertainment/Noam Galai/Stringer
Sometimes, it is too late to say sorry.
That's the lesson the Chinese government taught world-famous punchline Justin Bieber, 23, this week. In a response to a concerned Bieber fan who asked her government why the Canadian pop singer hadn't been seen in the country in the last several years, Beijing's Municipal Bureau of Culture made it clear the dude is literally not welcome in China, due to a history of bad behavior and general douchebaggery, both in China and around the world.
"Justin Bieber is a gifted singer," the public statement reads, "but he is also a controversial young foreign singer."
"In order to maintain order in the Chinese market and purify the Chinese performance environment, it is not suitable to bring in badly behaved entertainers," it states. "We hope that as Justin Bieber matures, he can continue to improve his own words and actions, and truly become a singer beloved by the public."
Now, obviously, the Chinese government is not the first entity to call Bieber out for his antics. The internationally recognized shame of Ontario has been known to -- among other crimes and misdemeanors -- egg his neighbors' houses for up to $20,000 in damages, drive under the influence, drive with an expired license, and a host of China-specific instances of idiocy. There is ample video or photo documentation of Bieber skateboarding through a Beijing mall and having his bodyguards carry him up the Great Wall, as well as praying at a shrine honoring Japanese war criminals whose victims were Chinese and Korean. He's literally said sorry so much over the years for so many things to so many disparate groups of people, that repeating it with a 2015 track "Sorry" probably felt more like punctuation than a statement of contrition. His career since then has been one long apology tour.
Bieber's not the first artist China has banned, either. Fellow famous musical miscreants Lady Gaga and Oasis have also been informed that their performances are not suitable for Chinese fans to enjoy, but it's worth pointing out that they were banned for meeting with the Dalai Lama and showing up at a Free Tibet concert, respectively.
It's not clear how long Bieber's ban will last, but his personal politics don't seem to be as much of an issue as his personal conduct. Hopefully his fans in mainland China can find alternate ways to catch their favorite clown on his world tour. He plays dates in Hong Kong, Japan, the Philippines, and Singapore starting in September.