You Can Visit This Untouched Island That's Basically Right Out of a Postcard
The formula for a dream beach vacation is easy: beautiful beach, crystal clear water, no screaming tourists, all for the incredibly low price of cheap. And with an abundance of incredible flight deals popping up left and right, it's time to check "secluded island" off the bucket list.
Located in the Philippines, Kalanggaman Island is an unspoiled paradise that's 100% uninhabited and restricts the number of visitors to no more than 500 at one time in an effort to preserve one of the most beautiful beaches in the country. With no tourist resorts, hotels, restaurants, and even no electricity, Kalanggaman is literally a virgin island that has remained untouched by time and the effects of mass tourism.
Accessible only by an hour long boat ride from the city of Palompon, getting to Kalanggaman is part of the adventure. Starting from Manila, visitors must fly into Tacloban City, hop in a bus or van for a three hour ride to Palompon, and then make their way to the Palompon Ecotour office to arrange boat transportation to the island itself. Here, the Ecotour office can arrange a private boat or organize a boat to share for less money (usually between $5-10 for groups of 15 people). Visitors must also pay a day rate of about $10 to enter the island.
Though open year round, getting to Kalanggaman is no easy feat, with the the reward being more seclusion once guests cross the finish line. And in this race, the early bird gets the worm, or at least the chance to see dolphins, as guides recommend leaving for the island at 6am for the calmest waters and heaviest dolphin activity.
In addition to navigating the journey to this Instagramer's paradise, guests need to come prepared with all necessities, because there are next to none on the island, and the one shop on Kalanggaman has a very limited supply at secluded island prices. Most importantly, food and water need to be brought over from Palompon. The island does offer two cooking areas, but all cooking supplies (including firewood) should to be brought over as well. Small cottages can also be rented for the day, though to sleep overnight visitors must pay a $15 fee to pitch a tent.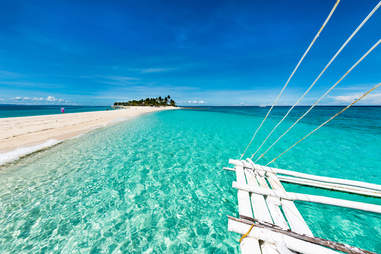 bearacreative/Shutterstock
For its secluded location, there are plenty of activities going on around the island. Bring a face mask for snorkeling, or hit up the shop to rent kayaks, stand-up paddle boards, and even scuba diving equipment to explore around the nearby waters. Beach volleyball is also popular in Kalanggaman, and pickup games start throughout the day. The most impressive activity, though, comes at night when the sun has gone down and the remoteness of the island allows for spectacular stargazing.
So if it's time to finally book that dream vacation, or just book a trip to a place with no internet, because, you know… 2017… Kalanggaman is a world away waiting for the next 500.
Sign up here for our daily Thrillist email and subscribe here for our YouTube channel to get your fix of the best in food/drink/fun.
Tanner Saunders is a writer at Thrillist who would also like to escape to paradise.