Competitive Kale Eating is Real and Healthier Than Hot Dog Eating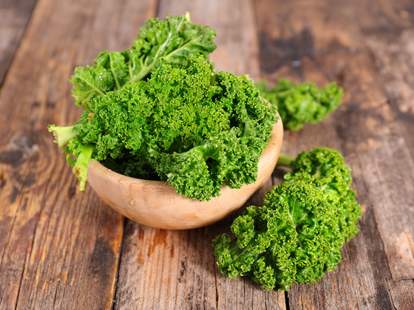 There is simply nothing more American than competitive eating. That's surely the reason that the famous Nathan's Hot Dog Eating Contest takes place annually on the Fourth of July at Coney Island. Set to rival the All-American independence celebration of eating 70 hot dogs in 10 minutes is the Kale Yeah! kale eating contest in Buffalo, New York.
The healthiest unhealthy thing to do to your body will take place on July 9 at the Taste of Buffalo. Competitors sanctioned by Major League Eating (which is actually a thing) will compete for $2,000 by eating handfuls of kale for eight minutes. The winner will be crowned the King or Queen of Kale on the steps of Buffalo City Hall.
The festival is using the Kale Yeah! competition to highlight the healthy fare available at the festival this year. Though there will be plenty of buffalo mac and cheese, s'mores cupcakes, and vanilla bean créme brulee, the festival is participating in The Independent Health Foundation's Healthy Options program, which will require each vendor to offer at least one healthy option, marked by a heart on their website.  
"This is the tenth anniversary of the Taste's participation in Independent Health Foundation's Healthy Options," said Jen Mitri, 2016 Taste of Buffalo chair. "Through this program, we were the first food festival in the nation to require all participating restaurants to offer a Healthy Option menu item, which is lower in saturated fat, cholesterol, and sodium."
The kale eating competition will have just the one healthy option and one very unhealthy way to consume it. On the upside, it takes four and a half cups of kale to equal the number of calories in a single hot dog, so it should make the day after a little less terrible for the competitors, maybe.
Sign up here for our daily Thrillist email, and get your fix of the best in food/drink/fun.
Dustin Nelson is a News Writer with Thrillist. He holds a Guinness World Record, but has never met the fingernail lady. He's written for Sports Illustrated, Men's Journal, The Rumpus, and other digital wonderlands. Follow him @dlukenelson.