A 17,000sqft Karaoke Bar Is Opening on the Las Vegas Strip
Courtesy of Kamu Ultra Karaoke
Courtesy of Kamu Ultra Karaoke
Everyone has their drink limit. And once you hit that number, you break out into an involuntary (but spirited!) rendition of Drexy Midnight Runners' "Come on Eileen." But because this is frowned upon at normal establishments -- or so I've been told -- that's the point you head to your local karaoke bar.
And now, there's a 17,000sqft space opening on the Las Vegas strip. Finally! A place that can handle my star power (read: tone deaf vocals). Kamu Ultra Karaoke will make its debut at the Grand Canal Shoppes in February 2020 with 40 private singing suites and lots of liquid courage for the latter. We're talking premium cocktails and bottle service.
"Karaoke has been the foundation of entertainment for the likes of imperial royalty to farmers in rural villages for thousands of years," Kamu General Manager Jeffrey Kim told Casino Journal earlier this week."Today, this form of entertainment has become wildly popular in most cultures, extending far beyond its origins. We can't wait to bring our version of karaoke to The Strip and offer Vegas the chance to experience karaoke in pure luxury."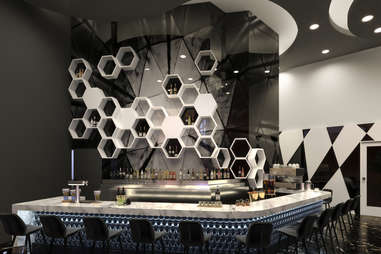 And pure luxury it is. The entire menu was curated by Chef Chris Oh, aka the founder of Seoul Sausage Co. and co-founder of Hanjip Korean BBQ, and includes fresh oysters, pizza, churro doughnut holes, and more.
Guests are greeted by a digital water curtain from Aqua Reign, which releases thousands of water droplets to create moving images, patterns and text, Eater reports. There's, naturally, quite the music catalog, but performers can also Bluetooth their own or utilize the suites for e-gaming.
h/t Travel & Leisure
Sign up here for our daily Thrillist email and subscribe here for our YouTube channel to get your fix of the best in food/drink/fun.
Megan Schaltegger is a staff writer at Thrillist. Follow her @MegSchaltegger.