Kanye West Himself Is Getting in on the Hilarious New Yorker Cartoon Meme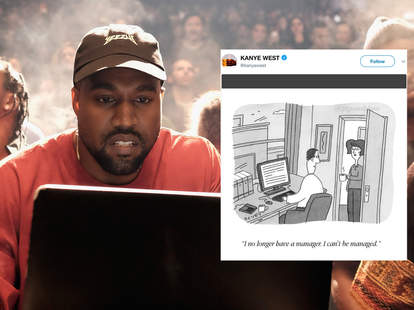 Edited - Dimitrios Kambouris/Getty Images Entertainment
Kanye West has been shaking up the internet in recent days. If you're privy to the chaotic ecosystem that is Twitter, you've no doubt witnessed Kanye's full-blown online renaissance, which has included standard fare album announcements, weird philosophical musings, and a left-field bromance with the president. To put it plainly, it's been an inscrutable sh*t show. 
On the lighter side of Yeezy's self-aggrandizing and polarizing tweet barrage, though, is the rapper's recognition of himself as a meme. As of Thursday, he's been tweeting cartoons from The New Yorker that use his tweets as captions. If you're not sure what that looks like, observe below: 
To mark the rapper's acrimonious return to Twitter, the website Pigeons and Planes created the newest batch of quotable Kanye New Yorker cartoons. As The Daily Dot notes, the Kanye/New Yorker mashup is an old meme that dates as far back as 2010. It's clearly a meme that's stood the test of time, as his tweets tend to weave seamlessly with the black and white cartoon drawings that usually form the backdrop for some highbrow comedy.
Whether Kanye is knowingly perpetuating the joke, or merely wants reinforce his place in the world as a supreme thinker with "dragon energy," is unclear. Whatever the case, it doesn't seem like we're going to understand it anytime soon. 
Sign up here for our daily Thrillist email and subscribe here for our YouTube channel to get your fix of the best in food/drink/fun.
 
Sam Blum is a News Staff Writer for Thrillist. He's also a martial arts and music nerd who appreciates a fine sandwich and cute dogs. Find his clips in The Guardian, Rolling Stone, The A.V. Club and Esquire. He's on Twitter @Blumnessmonster.