Epic Karaoke Session Lands Man in Hospital With Collapsed Lung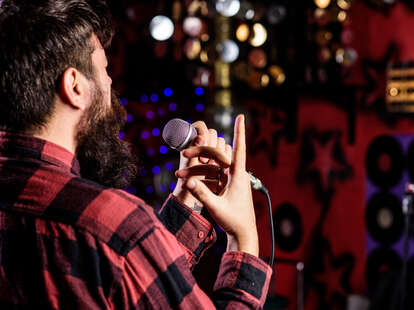 The occasional karaoke outing is a good way to let your hair down and belt out a few tunes you're maybe halfway decent at singing. But there is evidently a point at which such good-natured sub-par vocal stylings can be harmful, and one poor dude just discovered it after landing in the hospital with a collapsed lung after a marathon karaoke session.
Following an enthusiastic 10-song set filled with numerous high notes, a Chinese man ended up in the emergency room in extreme pain caused by a collapsed lung. The amateur crooner reportedly noticed he was having difficulty breathing in the midst of all the revelry and felt a pain in his left lung, but ignored it until it became unbearable a day later and sought medical attention, according to Newsweek.
"I was very excited in the heat of the moment and after singing a few songs with very high notes, I found myself having breathing difficulties," the man said, per the South China Morning Post.
The injuries were most likely caused by repeatedly hitting the high notes, according to a doctor who spoke to the Post, who also recommended against karaoke sessions that last more than two hours at a time. Unfortunately, it remains unclear which songs the man was singing.
Just something to keep in mind the next time you're looking for an excuse to get out of doing karaoke, or maybe a reason to pull an overzealous pal off the mic.
h/tNewsweek
Sign up here for our daily Thrillist email and subscribe here for our YouTube channel to get your fix of the best in food/drink/fun.