Kellogg's Is Expertly Trolling General Mills With New Honey Nut Frosted Flakes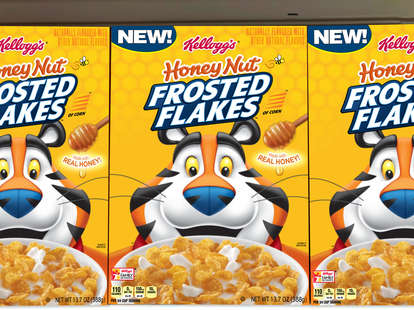 Edited - Courtesy of Kellogg's
Edited - Courtesy of Kellogg's
Your local grocery store cereal aisle is hardly a war zone, but the battle of the big breakfast cereal brands -- General Mills versus Kellogg's -- is heating up. It all started in January when Lucky Charms' parent company released an unofficial mashup of the magically delicious cereal and rival Kellogg's Frosted Flakes.
Now, the latter company is hitting back with a pairing of their own to keep the feud alive. Earlier this week, the brand debuted Honey Nut Frosted Flakes, a blatant rip on General Mills' iconic 'O'-shaped cereal. The yellow, honeycomb patterned box features the Frosted Flakes logo, along with the cereal's beloved mascot, Tony the Tiger. Above the logo are the words honey nut, along with a tiny bee -- neither of which is particularly reminiscent of that seen on the Cheerios box, but we see what they did there.
"Honey Nut Frosted Flakes was a tough nut to crack. We knew our fans would be excited for this flavor and we're too," Brant Wheaton, Senior Brand Manager for Frosted Flakes said in a statement. "It was such a fun challenge to combine the two well-known flavors of honey-nut and Frosted Flakes to make something completely unique and quite frankly, g-r-reat."
The cereal combines everything you love about the sweet Cheerios, with the crunchy, sugary deliciousness of Frosted Flakes. To create this tasty combo, Kellogg's brought together honey, brown-butter notes, and a nutty flavor on top of their signature crispy corn flakes.
Like Lucky Charms Frosted Flakes, Honey Nut Frosted Flakes are real and will be available for purchase. You won't find this honey-sweetened cereal lining the shelves of your local supermarket just yet, however, you can expect them soon. Junk Banter, who got their hands on a box before the rest of us, speculates that Kellogg's Honey Nut Frosted Flakes will be released in "late December or early January."
General Mills hasn't responded to Kellogg's latest dig. Perhaps the two companies can get together over breakfast to work things out… or come up with new ideas for cereal mashups.
Sign up here for our daily Thrillist email and subscribe here for our YouTube channel to get your fix of the best in food/drink/fun.

Caitlyn Hitt is Daria IRL. Don't take our word for it -- find her on Twitter @nyltiaccc.