Inevitably, Ken Bone Has Already Been Offered a Porn Contract
CNN/Twitter
CNN/Twitter
For all intents and distractions, the previously unknown Ken Bone won the second presidential debate. While Donald Trump and Hillary Clinton gnashed their teeth at one another about personal and policy issues, the red-sweatered man from southern Illinois highjacked the broadcast and the internet's attention -- just by being a dad-like character from the Midwest.
Now, of course, he's being offered $100,000 to do porn.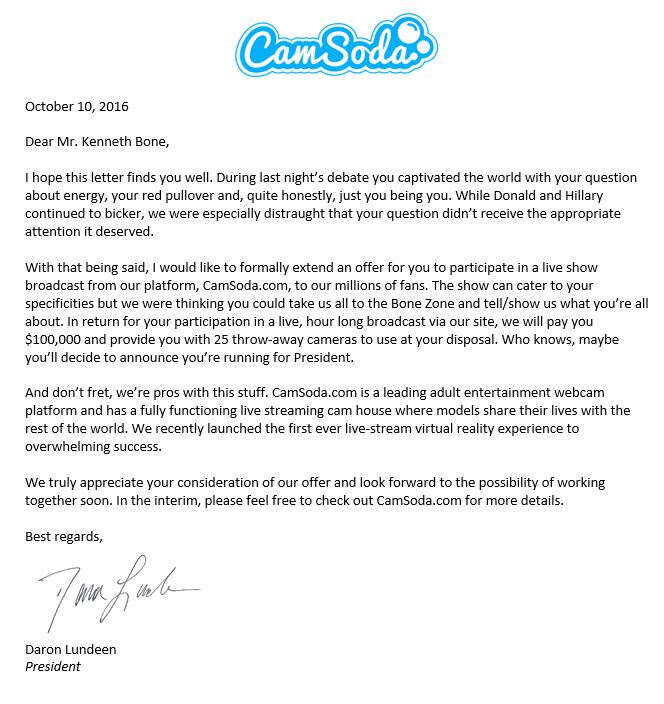 In a letter formally addressed to Mr. Bone, the porn site CamSoda offered a $100,000 bounty, along with 25 throw-away cams, for Bone to participate in an hour-long, live broadcast. If nothing else, it's a timely offer. And a shameless one at that. But it's a porn site... you were expecting scruples?
If you can't view the embedded image, it reads as follows:
---
Dear Mr. Kenneth Bone,
I hope this letter finds you well. During last night's debate you captivated the world with your question about energy, your red pullover, and quite honestly, just you being you. While Donald and Hillary continued to bicker, we were especially distraught that your questions didn't recieve the appropriate attention it deserved.
With that being said, I would like to formally extend an offer for you to participate in a live show broadcast from our platform, CamSoda.com, to our millions of fans. The show can cater to your specificities but we were thinking you could take us all to the Bone Zone and tell/show us what you're all about. In return for your participation in a live, hour long broadcast via our site, we will pay you $100,000 and provide you with 25 throw-away cameras to use at your disposal. Who knows, maybe you'll decide to announce you're running for President.
And don't fret, we're pros at this stuff. CamSoda is a leading adult entertainment webcam platform and has a fully functioning live streaming cam house where models share their lives with the rest of the world. We recently launched the first ever live-stream vritural reality experience to overwhelming success.
We truly appreciate your consideration of our offer and look forward to the possibility of working together soon. In the interim, please feel free to check out CamSoda.com for more details.
Best regards,
Daron Lundeen
President
---
It goes without saying that porn studios will make videos about just about anything -- take the Trump/Clinton porn parody, or even the recent Teenage Mutant Ninja Turtles porn. Somehow, now, Rule 34 even applies to breaking news. One day, we'll probably live in a world where the porn about something exists even before that very thing has been invented.
Until then, let's just all agree on one thing: we don't need to see Ken Bone boning on camera.
And just for measure, here's Thrillist's own Dave Infante (not Ken Bone) dressed as Ken Bone, reading Ken Bone tweets, because he kinda looks like Ken Bone.
Sign up here for our daily Thrillist email, and get your fix of the best in food/drink/fun.
Ryan Craggs is Thrillist's Senior News Editor. He not actually interested in watching Ken Bone bone. Follow him @ryanrcraggs.