Kendrick Lamar Just Dropped a Surprise Release, 'untitled unmastered.'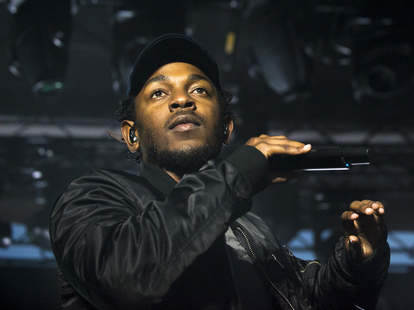 Fresh off of winning five Grammy awards for his album To Pimp a Butterfly, Kendrick Lamar just released a surprise album today, untitled unmastered. and it'll leave fans of the Compton rapper salivating for more.
Available to stream and purchase for $9.99 today, untitled unmastered. comprises eight tracks, each untitled, aside from a number and the date of its recording. Two of the tracks will sound familiar to avid fans, as Pitchfork points out --  Lamar previously performed "untitled 03 | 05.28.2013." on "The Late Show with Stephen Colbert," and "untitled 08 | 09.06.2014." on "The Tonight Show with Jimmy Fallon." You'll hear plenty of layered instrumentals, non-hook backup vocals, and jazz bass throughout all eight tracks, with a guest appearance by singer Cee Lo on "untitled 06 l 06.30.2014."
You can stream or purchase the hottest 8-track release since Frampton Comes Alive! on pretty much every music service on Earth, including Spotify, the iTunes Store, Apple Music, Tidal (LOL), and Google Play.
Check it out for yourself on Spotify (we're just putting Spotify here because it embeds nicely; choose your music player of choice).
untitled unmastered. runs 35 minutes in all, so you'll be able to get in at least 10 listens before you go out on Friday night. That way, you can give insufferable opinions about how the new album eclipses To Pimp a Butterfly, just because you've got refined taste in all things hip-hop and make a point of letting everyone know it.
Or you can just enjoy it and stop being insufferable.
Sign up here for our daily Thrillist email, and get your fix of the best in food/drink/fun.
Ryan Craggs is Thrillist's Senior News Editor. So far, his favorite track on untitled unmastered. is "untitled 08 | 09.06.2014.". Dat bassline. Follow him @ryanrcraggs.