When it's summer and it gets unbearably hot in the city, there's nothing better than a nice hike in the forest's shade. Add to that a refreshing water element, and you're just golden—and Kentucky seems to know that very well.
The Kentucky Wildlands, the vast natural space of gorgeous wilderness across eastern and southern Kentucky, just unveiled a new trail, aptly named The Kentucky Wildlands Waterfall Trail, that guides hikers to many of the state's most gorgeous waterfalls. The Wildlands themselves flaunt more than 800 waterfalls, but the trail, located in eastern Kentucky, features 17 of them.
On the trail, visitors can marvel at the waterfalls and learn about their stories and legends. Each one of them is unique, both in history and in setting—some of them are hidden away in the forest, while others serve as the perfect finish line after a big mountain hike. Among them, Jenny Wiley Falls features a gorgeous rock composition that's the perfect photo backdrop, while the unfortunately-titled Dog Slaughter Falls is famous for its gorgeous blue plunge pool, which makes for a great swimming hole, too.
The trail is also not too long of a haul away from Nashville, too. Its southern-most point—76 Falls in Clinton County—is located just a bit over a two-hour drive from Music City, and the stunning Yahoo Falls is some 200 miles and about a three-and-a-half-hour drive from Nashville.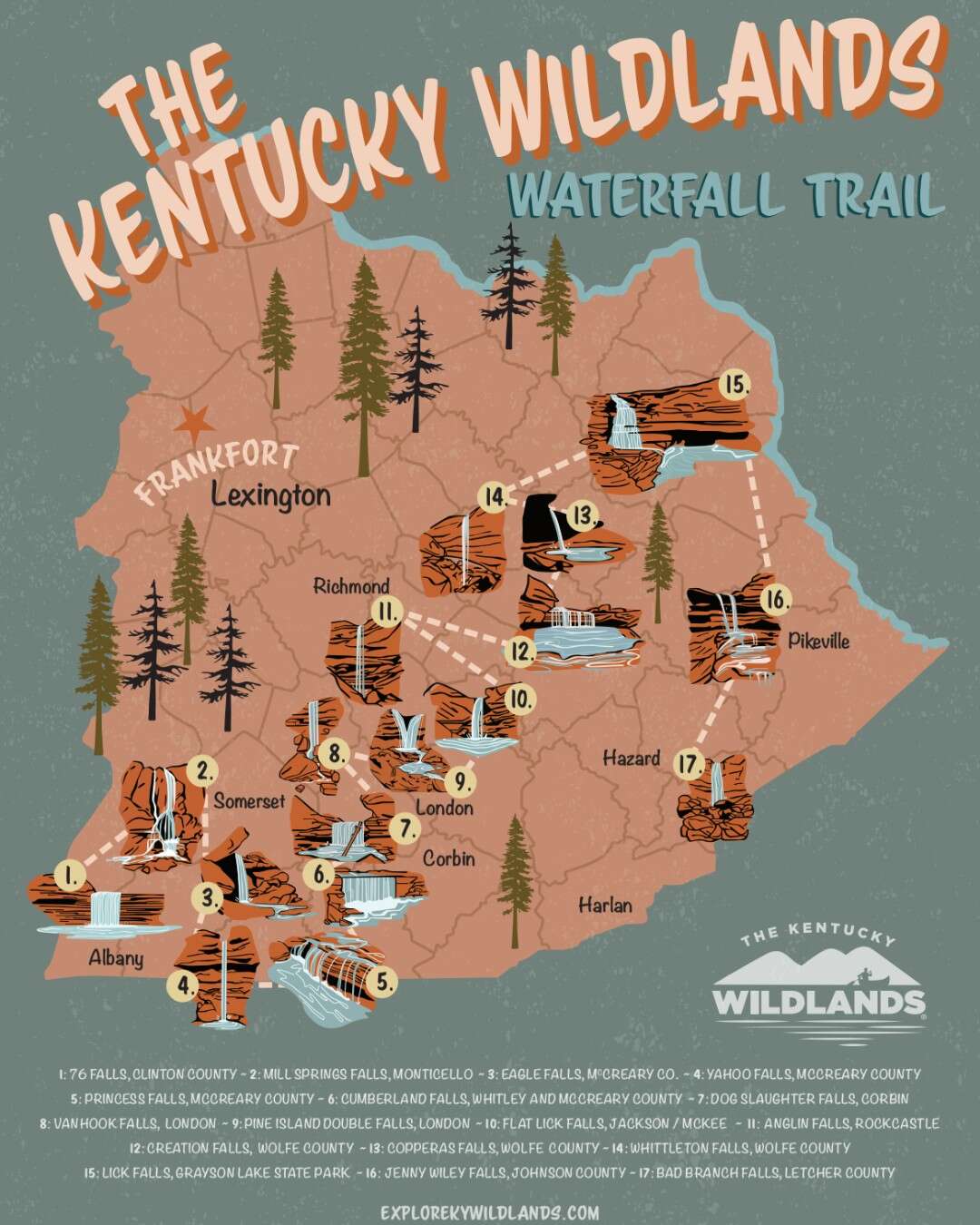 While every fall on the trail is iconic and worth seeing, it is important to remember that not all hikes leading to said waterfalls are easy and good for everyone. Some hikes—including the one to Dog Slaughter Falls—are considered moderately challenging, which means they're good for families, while others are more complex, and require a higher level of expertise.
However, even the easiest hikes can become challenging depending on the season, trail conditions, and waterfall volumes. Before visiting the trail, make sure to check out all the info and details about the falls you want to visit in order to keep yourself and your hiking buddies safe. You can read up about every waterfall on the trail right here.
For more information and to plan your visit, you can head over to the trail's website.