Kettle Is Unleashing New Farmstand Ranch and Garlic Parmesan Flavors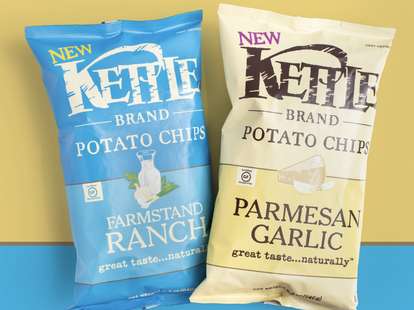 Edited - Courtesy of Kettle Brand
Edited - Courtesy of Kettle Brand
If you're reading this, it's probably because you're interested in Kettle Brand potato chips. You have good reason to be -- they're delicious. We know this because we've already tried pretty much all the flavors. They're extra crunchy, come in an array of flavors suitable for everyone (yes, even for you nasty salt and vinegar fanatics), and even have chips fried in avocado oil and almond oil.
Kettle is now expanding its flavor portfolio with the introduction of two new options: Farmstand Ranch and Parmesan Garlic. Woof, I can only imagine the smell of my own breath after eating these things. Though the two new flavors seem likely to be pungent, they also sound savory and inviting. Who has ever said no to ranch-flavored anything, or parmesan and garlic -- the key to any good pasta dish?
You'll be able to find the brand new Kettle flavors at your local chip peddling stores nationwide beginning in February. The retail price of a bag of chips clocks in at $3.79 for a 8.5oz bag, which seems like a bargain for a bag of equal parts bad breath and bliss.
Sign up here for our daily Thrillist email and subscribe here for our YouTube channel to get your fix of the best in food/drink/fun.
Kat Thompson is a staff writer at Thrillist. Follow her on Twitter @katthompsonn.