Keystone Will Pay $10,000 to Put Your Dog on the Can of Its New Raspberry Lime Beer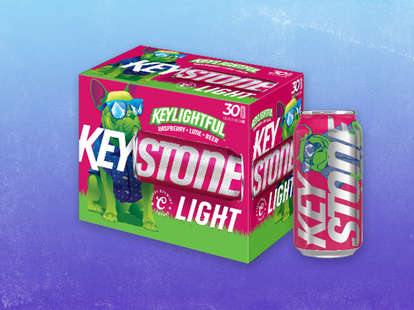 Courtesy of Keystone - Edited
Courtesy of Keystone - Edited
Cheap beer brands love turning their name into goofy portmanteaus. Well, maybe it's just Naturdays and, now, Keylightful. Nonetheless!
The new neon-colored beer from Keystone is a raspberry-lime beer, which, to be fair, does sound keylightful. The launch arrives with a contest to find the handsome pooch that will adorn its cans for the next year. "The Search for Lil' Breezy Keezy Contest" is going to turn someone and their pup into a pleased and wealthier duo.
Keystone will make the winning dog the Keylightful mascot for a year. The winning spokesdog's bipedal friend will land $10,000 and a year's supply of Keylightful. No one is going saying which of the two prizes is the one that's super alluring, but it rhymes with Ken Bland.
There are two ways to enter your Spot, Rover, or Professor Woofenstein Youngblood. You can post a photo to Instagram with a caption about why this is the dog of the year. You'll need to add @keystoneofficial, #searchforlilkeezy, and #contest to the post. Alternatively, you can email a photo of your dog to lilbreezykeezy@keylightful.com and tell them why your dog is tops in 100 words or less. This is your chance to prove you were right when you said your pup Charles Barkley could be a model.
Sign up here for our daily Thrillist email and subscribe here for our YouTube channel to get your fix of the best in food/drink/fun.