KFC Is Unleashing New Fried Chicken & Donuts Nationwide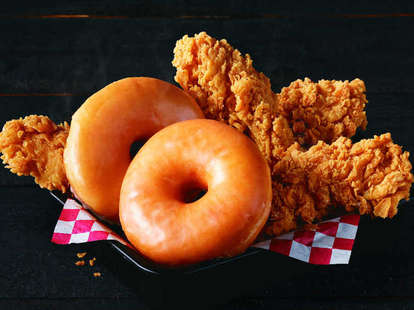 KFC teased the arrival of its chicken and donuts late last year, whetting our appetites for a sweet and savory union that, for once, didn't involve waffles. While only a few cities had access to the indulgent baskets of fried dough and chicken at the time, it looks like KFC has heard our please to roll it out nationwide.
The chicken chain announced Thursday that it's officially bringing both the Fried Chicken & Donut Basket meal and Fried Chicken & Donut Sandwich to its locations all throughout the country.
The basket meal includes either chicken on the bone or chicken tenders served with a donut. The sandwich is pretty self-explanatory: fried chicken served on glazed rings of fried dough instead of a bun. If you're really hungry, there's also the big basket meal options, which comes with an extra donut. All of these offerings range in prince from $5.49 to $7.99.
"Chicken & Donuts is the newest fried chicken trend we're bringing to all of America," Andrea Zahumensky, chief marketing officer of KFC US, said in a statement. "But not just any donut would do. Only a donut that's glazed-to-order and served piping hot every single time can stand next to our hand-breaded fried chicken. It's a finger lickin' good dish filled with glaze and glory."
Though available now at KFC's nationwide, the glorious combo of chicken and donuts won't stick around forever. The offering is scheduled to depart from menus March 16 -- or while supplies last -- so if we have another Popeyes Chicken Sandwich experience on our hands, you might want to hurry.
Sign up here for our daily Thrillist email and subscribe here for our YouTube channel to get your fix of the best in food/drink/fun.
Kat Thompson is a staff writer at Thrillist. Follow her on Twitter @katthompsonn.