How Well Does KFC Hold Up via Delivery? We Ordered & Found Out.
We revisit some of America's most iconic fast food items in the age of social distancing.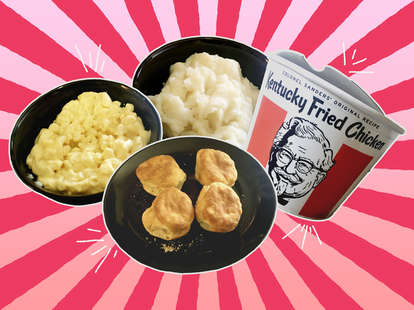 MAITANE ROMAGOSA/AMBER SUTHERLAND-NAMAKO/THRILLIST
MAITANE ROMAGOSA/AMBER SUTHERLAND-NAMAKO/THRILLIST
Editor's Note: In the age of social distancing, one of the only ways to safely get fast food is via delivery. We all know that a lot of foods aren't quite the same by the time they reach your door, but which fast food staples fare the best after traveling in a delivery bag? We're trying major fast food menu items to help find the best bets when ordering fast food to your door, with a new series of delivery-only taste tests called How You Holding Up?
This was the first time in the 'How You Holding Up' series that I was looking forward to the leftovers almost as much as the main event. My KFC order promised more staying power than the items I'd previously procured from Taco Bell, Subway, Wendy's, Chick-fil-A, Popeyes, Burger King, and McDonald's. Cold fried chicken is a comfort in and of itself, satisfying without having to kill its texture in the microwave or preheat the oven. Plus, a secret recipe feels quaint in the age of menu hacks and recipe dupes, and I wanted to dine out on that old fashioned feeling for as long as possible.
I'd sort of forgotten I ever knew about the intrigue around the Colonel's original recipe. That proprietary blend has been a trade secret since Harland Sanders perfected his 11 herbs and spices in 1940. That secrecy has been threatened a few times over the years, but the one true recipe -- a decades-old handwritten copy signed by Sanders himself -- lives in a vault at KFC HQ in Kentucky. Here's how the ancient blend, plus biscuits, mac & cheese, and mashed potatoes and gravy held up from that big bucket in the sky to my little walkup apartment.
Finger sanitizing good: Ordering, wait time, and delivery experience
The closest KFC is 1.9 miles away from my place and about a 15-minute walk from Lowlands, a bar I've been to a for a couple of birthday parties, and where I spent several solidly hazy hours at the picnic tables in the backyard last summer. If you were to spend an afternoon day drinking at Lowlands before you walked it off and picked up dinner at KFC, its big bucket sign would come into view from about two blocks away. If you order in on a sober work day instead, you can have a more reasonably sized bucket right in your own kitchen.
I'm able to navigate the delivery platforms a little faster than before, but they're still a bit glitchy. I clicked the delivery option on the KFC website, entered my address, selected a standard eight-piece bucket meal replete with biscuits, added sides of mashed potatoes and mac & cheese, and was ready to order through its partner Grubhub in seven minutes, which would have been a record. But the site had flipped it all into a pick-up at some point in the process, so I had to go through the motions again. My total was $25.99 before tax, tip, and a service fee. An additional $3.99 delivery fee was waived, a goodwill gesture that seems to happen from time to time without any discernible cadence. KFC/Grubhub's payment section asked for a "nickname," which seemed to invite credit card company headaches, so I went with my regular old government-recognized hyphenate. The ETA was 44 minutes, but the order arrived in just 36.
Original recipe: Taste, presentation, and how it holds up
A plastic bag bearing my non-nickname handily contained the bucket of chicken, carton of biscuits, and separate containers of mac & cheese, mashed potatoes, and gravy. Everything was hot, and the potatoes were still steaming when I transferred them to a bowl.
Many of the items I've ordered for 'How You Holding Up?' have had redeeming qualities. Some have been downright delicious, and a few familiar flavors and even locations on the delivery map have served as reminders of that blissfully ignorant time just a few months ago when we could all still throw parties, go to basketball games, and turn a meal into a verb by way of brunch. But this was the first order that, once plated, made my kitchen island look like a banquet. Nestled together like a rudimentary puzzle, it's crispy golden skin flecked with evidence of those mysterious 11 herbs and spices, the chicken was beautiful. The biscuits looked pillowy, the mac & cheese looked creamy, and the mashed potatoes looked fluffy. The gravy just kind of sat there, but that's what gravy does. Together, these items created the appearance of abundance, of plenty, of the certainty sometimes necessary to make sharing a little easier.
This banquet tasted great, too. Most of the chicken's surface area still had a nice crunch to it and each piece was juicy inside, even the typically drier breast. Its original recipe is also a familiarity leader, recognizable as none other than KFC on the first bite. Neither the mac & cheese nor the mashed potatoes and gravy carried quite the same nostalgia kick, but they were very good. The elbow macaroni's velvety cheddar cheese sauce was generously portioned, and the mashed potatoes had nice notes of salt and butter without allowing either to overwhelm. The gravy was fine. You can put it on stuff. The lovely biscuits were deceptively brittle, but my husband enjoyed them enough to save the leftover pucks and use one for a breakfast sandwich the next day.
Final thoughts
KFC is a leftovers hero among its peers. It travels, stores, and reheats well, though the chicken is tasty right out of the refrigerator, too. Depending on the number of people in your household, you can get a couple of days mileage out of your order. Make sure to tip extra for all that convenience.
Join us again next time when we ask Checkers: How You Holding up?
Sign up here for our daily Thrillist email and subscribe here for our YouTube channel to get your fix of the best in food/drink/fun.