KFC Is Selling a Fire Log That Smells Just Like Its Fried Chicken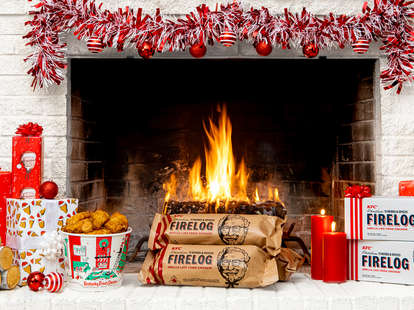 Courtesy of KFC
Courtesy of KFC
Chestnuts roasting on an open fire? Is that what the holidays are about, really? KFC doesn't think so. The fried chicken purveyor that sells the best pot pie and buckets of wings wants your cozy fireplace to smell like its secret recipe for fried chicken. How? With its 11 Herbs & Spices Firelog, a collaboration with Enviro-log that's returning for a second year.
"Last year, we captured the hearts, noses and fireplaces of our fans, but thousands more were clamoring to get their hands on our limited firelogs. So, we brought our 11 Herbs & Spices Firelogs back with an exclusive partnership with Walmart to spread the finger-lickin' good cheer," Andrea Zahumensky, KFC's chief marketing officer for the US, said in a press release. "We hope you'll cuddle up with your family or friends with a bucket of our world-famous fried chicken and a warm fried chicken-scented fire this holiday season."
You can get your own chicken-scented log exclusively at Walmart for $18.99 -- a small price to pay for the smell of greasy chicken settling into your couch cushions. Who needs your Christmas candle or the warming scent of sugar cookies baking when you can have a toasty fire that smells like the Colonel's famous chicken? In fact, you might as well scrap Christmas dinner altogether and get a bucket of fried chicken. That's what they do in Japan, anyway.
Sign up here for our daily Thrillist email and subscribe here for our YouTube channel to get your fix of the best in food/drink/fun.
Kat Thompson is a staff writer at Thrillist. Follow her on Twitter @katthompsonn.