KFC Is Making New Chicken and Donuts and We Are Not Opposed
Courtesy of KFC
Courtesy of KFC
We've all seen the holy matrimony of chicken and waffles, but what about chicken and donuts? KFC is introducing a twist on the classic southern staple by swapping out syrupy waffles for none other than glazed donuts.
That all-new, sweet and savory menu item is currently being tested at the chicken chain's locations in Pittsburgh, Pennsylvania and Norfolk/Richmond, Virginia, a spokesperson told Thrillist. Diners can either opt for a Fried Chicken & Donut Basketmeal, with a choice of tenders or bone-in chicken, or choose a more compact meal in the form of a Fried Chicken & Donuts Sandwich. That's right, a crispy chicken filet sandwiched between two glazed donuts is no longer just carnival food -- and we're lowkey stoked about it.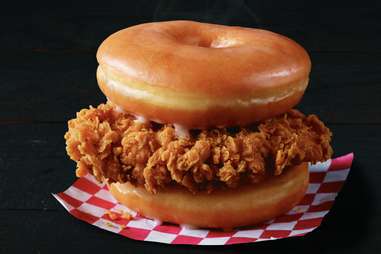 The basket of chicken and donuts clocks in at $5.49, but you can also order a big basketmeal, which comes with two donuts, for $7.49 (though if you want this option, maybe it'd be a better deal to get the sandwich, which comes with two donuts). The sandwich will retail at $5.99.
If for some reason you find yourself at KFC and don't want any chicken, donuts can be added to any meal for a buck apiece.
We're a little bit salty this sweet-and-savory combination has yet to launch nationwide, but I guess we can always assemble our own impromptu KFC donut sandwich with some Krispy Kreme originals, an order of KFC tenders, and some grit. I mean, Popeyes is already making us bring our own buns, right?
Sign up here for our daily Thrillist email and subscribe here for our YouTube channel to get your fix of the best in food/drink/fun.
Kat Thompson is a staff writer at Thrillist. Follow her on Twitter @katthompsonn.