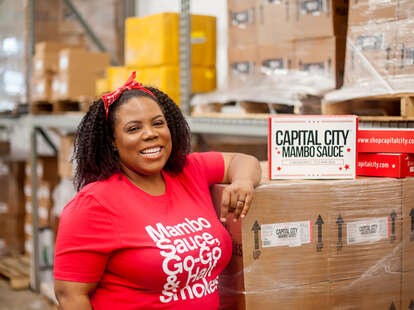 Capital City's iconic mambo sauce—a sweet-meets-tangy recipe that's dominated the Washington food scene—is joining KFC menus beyond just the District. As part of a trial run, the primed-for-dunking condiment is also hitting Dallas and Atlanta outposts.
The fast food joint is partnering with Capital City, a Black- and female-owned business operated by Arsha Jones, to offer its Sweet Hot Capital City mambo sauce.
"KFC has given Capital City a huge opportunity to highlight a culture that many don't get a chance to experience," CEO and co-founder of Capital City Arsha Jones said in a press release. "When visitors think of Washington, D.C., they envision museums, government, and politics, but there's a huge community just beyond those few blocks that has a rich history filled with styles, music, lingo and food all our own. We are proud to be able to partner with KFC to share our culture with more people."
In case you are unaware of the famous sauce's history, allow me to enlighten you. The sweet and sour sauce hit kitchens back in the 1950s and quickly became a staple of Black food culture in Washington, where it's usually drizzled on fried chicken, chicken wings, and French fries.
Jones, who was born and raised in Washington, struggled to find the condiment when she moved to the suburbs, so she started making her own, which just so happened to skyrocket to success.
"Arsha has created a successful business with this ridiculously delicious sauce, and we are proud to partner with her to give even more people a chance to try it," KFC president Kevin Hochman said in the statement. "You have to try Capital City mambo sauce to understand how amazing it tastes, and it's a terrific match with our world-famous Kentucky Fried Chicken!"
From today, fans of the sauce and newbies alike can snag it at participating KFC locations when ordering the Chicken Sandwich Combo Meal, 4-piece Extra Crispy Tenders Combo Meal, or the 2-Piece Extra Crispy Tenders Combo Meal. It can also be purchased with any other menu item for an additional cost.
Megan Schaltegger is a staff writer at Thrillist.