KFC Has a New Fried Chicken Sandwich to Take on Popeyes
"They tested pickles with eight variations of thickness and brines before we landed on our pickle."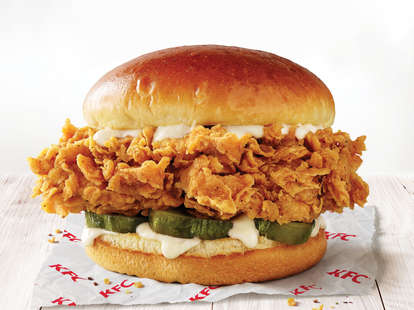 Courtesy of KFC
Courtesy of KFC
Last fall was marked by an intense debate over the best chicken sandwich in fast food, with Popeyes and Chick-fil-A battling it out for the top spot, and everyone else trying to get a piece of the attention. But while this year has been marked by... other... things... so far, we can now distract ourselves with talk of sandwiches again, because KFC just threw a new version into the mix.
The fried chicken chain announced Tuesday that it's testing a "bigger and better" premium chicken sandwich at a short list of restaurants in Florida. This means it won't be widely available yet, but it's definitely worth paying attention to. The filet is about 20% larger than KFC's typical sandwich chicken, and it's double-breaded, evidenced by the chicken's visibly textured surface and a wingspan that stretches beyond the bounds of the bun.
"We wanted a chicken sandwich that really lives up to our legacy as the fried-chicken experts and, let's face it, ours wasn't the one to beat," said Andrea Zahumensky, chief marketing officer of KFC US, in a press release.
This is true. KFC came at number five in our ranking. But the KFC filet now poses a threat to its previous betters. The new-and-improved KFC Chicken Sandwich has a buttery brioche bun, thick pickles, and real mayo.
"[Our food innovation team] left no stone unturned," said Zahumensky. "They tested pickles with eight variations of thickness and brines before we landed on our pickle. And for our perfect brioche bun, we collaborated with six different bakeries..."
You can either get the sandwich alone for around $4 or in a combo meal for around $7, which includes a side and a medium drink. You have the best shot of getting the sandwich if you're in Central Florida -- particulaly Orlando, Winter Park, Sanford, Kissimmee, Clermont, Mount Dora and Poinciana. Here's the full list of locations serving the new sandwich:
16800 W. New Hwy 441, Mount Dora, FL
6217 International Rd., Orlando, FL
502 S Alafaya Trail, Orlando, FL
5200 S John Young Parkway, Orlando, FL
4466 Pleasant Hill Road, Poinciana, FL
3601 S. Orlando Dr., Sanford, FL
2882 N Hiawassee Rd, Orlando, FL
1130 W. Osceola Pkwy., Kissimmee, FL
5780 Central Florida Parkway, Orlando, FL
11302 S Orange Blossom Trl, Orlando, FL
510 U.S. Hwy 27, Clermont, FL
5680 W US Highway 192, Kissimmee, FL
4250 Aloma Ave., Winter Park, FL
10825 E Colonial Dr, Orlando, FL
3009 W Colonial Drive, Orlando, FL
While fans of the chain were recently blessed with a limited-edition fried chicken and donut meal, this "bigger and better" fried chicken sandwich is definitely the hottest KFC news since the release of the chain's horny SIMS game, "I Love You, Colonel Sanders! A Finger Lickin' Good Dating Simulator."
Sign up here for our daily Thrillist email and subscribe here for our YouTube channel to get your fix of the best in food/drink/fun.
Ruby Anderson is a News Writer at Thrillist. Send your tips to randerson@thrillist.com.