KFC Is Making New Cinnabon Biscuits and You Can Get Them for Free
Some things are just better together. Bacon and eggs, burgers and fries...Netflix and your couch...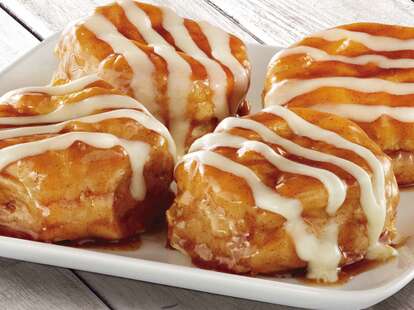 Some things are just better together. Bacon and eggs, burgers and fries... Netflix and your couch. You get the idea. The folks at KFC are betting there's another combo you'll find hard to resist, too, in the form of its new dessert: biscuits doused in Cinnabon glaze and frosting. Even better, the fried chicken chain is also giving them away with certain orders.
The new Cinnabon Dessert Biscuits will be available at KFC restaurants for a limited time starting April 29, according to a spokesperson. To celebrate the release, the chain will hook you up with four of the sweet biscuits for free when you purchase a 10-piece meal or larger. The sugary concoction is a mashup of KFC's flaky biscuits, which come topped with Cinnabon's signature brown sugar glaze and cream cheese frosting. Thrillist got a preview, and can confirm they are indeed as decadent as they sound.
While you need to buy at least a 10-piece meal to get them for free, they are also available for purchase individually for $1 each, or four for $3. They'll be available through June 30, or while supplies last.
The release of the new dessert coincides with a wacky new Mother's Day campaign the chain is kicking off, which allows you to create a personalized Mother's Day video featuring the KFC Colonel and actual Chippendale's dancers. If that's, uh, something you think yours would appreciate.
"Our new Cinnabon Dessert Biscuits were created just in time for Mother's Day to give mom a delectable sweet treat that's uniquely KFC," Andrea Zahumensky, KFC's chief marketing officer, said in a press release. "To top it off, wish mom a happy Mother's Day the KFC way by sending her a video of a shirt-ripping, finger-lickin' performance cooked up by a troupe of hunky KFC Chickendales."
Quick, someone send some of these to Ina Garten.

Sign up here for our daily Thrillist email and subscribe here for our YouTube channel to get your fix of the best in food/drink/fun.