Pizza Hut and KFC Teamed Up to Make Popcorn Chicken Pizza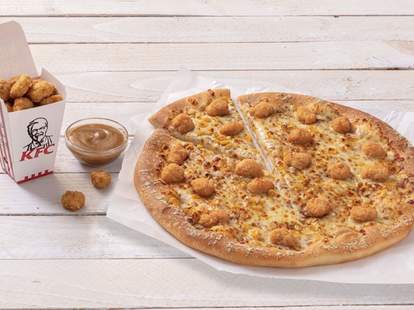 KFC is perhaps the most notable fast-food infiltrator of 2019; Last year we witnessed the company dip its toes into the plant-based "meat" pool, recklessly sprinkle Cheetos on its crispy chicken, create a sexy Colonel Sanders video game that threatened secure relationships all across the world, and more. And now this loose cannon of a franchise is collaborating with none other than beloved munchie king Pizza Hut, to make a Popcorn Chicken Pizza. 
The bad news is that this combo is a limited-edition item available only in the UK. Anyone across the Atlantic can go to PizzaHut.co.uk and order between February 3 and February 16. But I know what those in the US are thinking: What's the point of winning the Revolutionary War if the Brits are the only ones benefiting from our Great American establishments? To that I say, us KFC/Pizza Hut patriots must be above envy and resentment, by creating our own grassroots Popcorn Chicken Pizza. 
The recipe is as easy as pie. The pizza the chains are selling requires only the Pizza Hut "Classic Crust," KFC's popcorn chicken, some corn, mozzarella cheese, and gravy... so buy a plain pie and throw some KFC ingredients on top. Sure, you could have done it before, but that wouldn't have been such a brave act of patriotism.
Sign up here for our daily Thrillist email and subscribe here for our YouTube channel to get your fix of the best in food/drink/fun.