You Can Get 70 Chicken Nuggets for $10 From KFC Right Now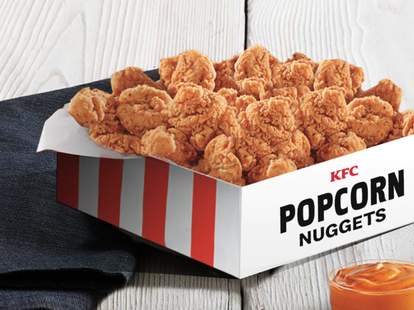 A lot of my pre-social distancing hobbies went out the window when the government started mandating stay-at-home orders. But luckily, my life's greatest passion (watching hours of trash reality tv and eating takeout) is still totally acceptable! And now, KFC has a new promo with just enough food to supply all of our binge-athons.
The fried chicken chain is bringing back an old fave: its $10 popcorn nuggets deal. The extra-large meal, which will feed a whole family or one really hangry human, includes about 70 pieces of KFC's popcorn chicken with your choice of dipping sauces.
In case you are somehow unfamiliar with the concept of popcorn chicken, let me enlighten you. It's basically a bite-size variant of the classic chicken nugget we all know and love. And this monstrous $10 bucket of them is now available at restaurants across the US -- but only for a little while, so get your fill while you still can.
As I'm sure you already know, KFC -- along with like every other restaurant, bar, and non-essential business across the country -- is currently offering delivery and takeout-only orders in response to the COVID-19 outbreak. But the chain's delivery partners, Grubhub and Seamless, have made the whole ordeal really easy on us. Through April 26, you can get free delivery.
The companies are also taking added precautions to ensure customer safety. A rep for both provided the following statement to Thrillist:
"This is obviously a complex and fast-moving situation. We are focused on prioritizing the health and safety of our drivers, diners, restaurant partners and employees during this challenging time. We will continue to monitor the situation closely, including assessing and analyzing the potential impact on our business."
Sign up here for our daily Thrillist email and subscribe here for our YouTube channel to get your fix of the best in food/drink/fun.
Megan Schaltegger is a staff writer at Thrillist.