KFC Is Unleashing This Insanely Cheesy Cheetos Chicken Sandwich Nationwide
Every once and a while, two things you might never think to put together turn out to pair perfectly together...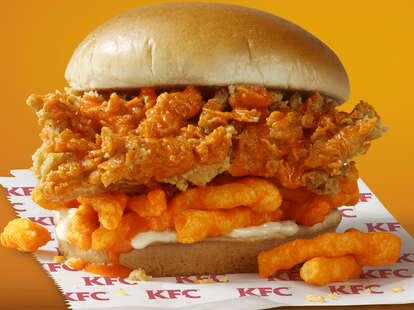 Every once in a while, two things you'd never think to put together turn out to be a perfect pair. Take, for example, peanut butter and pickles, or fries and Frostys, or Billy Ray Cyrus and Lil Nas X. Now, it's time to welcome another unexpectedly delightful combo to the mix: the KFC Cheetos Chicken Sandwich.
Following a successful test run in select markets earlier this year, KFC is about to roll out the Cheetos Chicken Sandwich nationwide for a limited time, starting July 1. The beloved fried chicken chain teamed up with the crunchy cheese snack-maker on a doozy of sandwich that packs of a combo of both crunch and cheese. It features a breaded Extra Crispy fried chicken filet drizzled in a special Cheetos-flavored sauce on a toasted bun that's been sprinkled with crunchy Cheetos. Of course, to ensure the added crunch remains balanced, there's also a layer of mayo (sorry, beach body).
If you want to taste the cheesy combo for yourself, you'll need to do so before July 29, since the sandwich will only be around for four weeks. After that, it'll be on you to BYO Cheetos and hope for the best.
Then again, considering KFC's recent foray into the Cinnabon-verse, and now Cheetos territory, we have a sneaking suspicion the chain will be back with yet another new delicious concoction sometime soon.

Sign up here for our daily Thrillist email and subscribe here for our YouTube channel to get your fix of the best in food/drink/fun.