KFC is Selling Sides By the Scoop So You Can Make Limitless, Gravy-Filled Mash Ups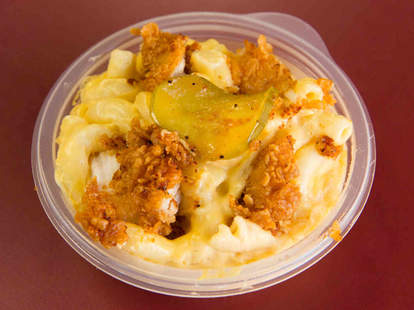 Instead of peeling back the dewy condensation spotted tops of monotonous styrofoam cups, KFC is changing up their side order game and allowing customers to order sides by the scoop -- not by the carton. Yes, that means you can get a bowl of mashed potatoes snuggled up with some mac and cheese, a symphony of cheese and gravy all in one; the true American dream.
This exciting scoop was originally reported by Nation's Restaurant News, where KFC's head chef, Bob Das, said, "I think it will allow us to eventually plus up our sandwiches. So you might be able to get a mac-and-cheese chicken sandwich. Something decadent like that."
Sure, KFC just recently announced a mac and cheese bowl topped with fried popcorn chicken. And yes, they also released a cheeto-dusted chicken sandwich not too long ago. But hey, decadence runs in the KFC family -- and though we've hacked KFC's menu before, this is another way to really get creative. We're talking gravy fries! We're talking biscuit mac and cheese sandwiches! We're talking corn and green beans for your one keto friend who is begrudgingly going to KFC with you!
The permutations are limitless and we're excited to see what KFC enthusiasts come up with.
h/t: The Takeout
Sign up here for our daily Thrillist email and subscribe here for our YouTube channel to get your fix of the best in food/drink/fun.
Kat Thompson is a staff writer at Thrillist. Follow her on Twitter @katthompsonn.