The Cake-Filled Kit Kat Bars of Your Dreams Are Real
Nestlé Japan's Chocolatory store has produced some crazy Kit Kat candy concoctions -- including Kit Kat sushi -- over the years, but its latest and arguably simplest creation may be its best. Behold, this is what the chocolate cake-stuffed Kit Kat bar of your dreams looks like in real life. It's called the Gateau Mignon Kit Kat, and yes, it is real.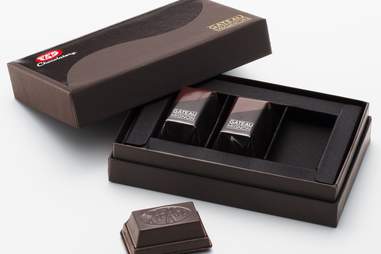 Nestlé Japan
News of the new treat comes from Nestlé Japan and SoraNews24. The bite-size candy bar-dessert hybrid is the latest in a line of ridiculous candy that includes gold-covered and rose-topped versions of Kit Kat's iconic, globally distributed chocolate bar. This cake-filled edition was unveiled to coincide with the reopening of Kit Kat's flagship Chocolatory shop, located in Tokyo, and you can only get them there.
If you're planning a trip to Japan, this wouldn't be a terrible stop to make as you navigate the streets of Tokyo, which has previously been named one of the best cities in the world for travelers. Unlike the 24-karat-gold Kit Kats, these are actually affordable. Visitors can buy three of the Kit Kat Chocolatory Gateau Mignon for 1,458 yen ($13) or six for 2,916 yen ($26).