Queue Up, Because Kiwi Sorbet Bars Are Now a Thing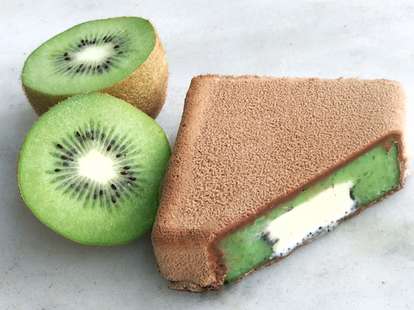 It's time to queue up because the bakery that brought you the cronut has just introduced the world to kiwi sorbet bars. Dominique Ansel Bakery has put together a beautiful summer treat that was just released last weekend and is already in the running for the most delicious looking treat of the year.
The bakery's kiwi sorbet bar features kiwi sorbet on the inside with Tahitian vanilla ice cream in the middle, making it look just like a kiwi. The seeds are actually poppyseeds and the whole ordeal is coated in a milk chocolate they say is "a little fuzzy." (That's a totally different "a little fuzzy" than the leftovers in your fridge that are "a little fuzzy.")
"Kiwi is one of those fruits that has a really unique taste and texture - a sweet, slightly tart and juicy center that works really well as a cold, refreshing sorbet, and that fuzzy skin outside which I thought we could recreate with a layer of milk chocolate so that it's actually edible," says Chef Dominique Ansel. "We came up with the idea of a sorbet bar for summertime, where the kiwi sorbet surrounds a vanilla ice cream center, and rather than actual kiwi seeds, we use poppyseeds which add a little extra crunch."
The bar is available daily at the SoHo shop in New York, so adjust your travel plans accordingly.
h/t Guest of a Guest
Sign up here for our daily Thrillist email, and get your fix of the best in food/drink/fun.
Dustin Nelson is a News Writer with Thrillist. He holds a Guinness World Record but has never met the fingernail lady. Follow him @dlukenelson.