Nicole Glass Photography/Shutterstock
Recently, public health experts updated their guidance on which masks the public should be wearing to best protect themselves against COVID-19, especially the new Omicron variant. Cloth masks are out, and KN95s and N95s are in. That's because KN95s and N95s are much more effective at filtering virus particles than cloth masks. While the main difference between the two is that KN95s are held to the Chinese medical standard, and N95s are held to the US medical standard, both masks filter 95% of air particles, including viruses, hence the "95" in the name.
Reusable cloth masks like those you can purchase at clothing and novelty stores are only about 37% effective in comparison.
Depending on where you live, however, finding K9N5s or N95s can be difficult, and there's a lot of information to decipher regarding where to buy them, how to wear them, and when to dispose of them. Below is a breakdown of everything you need to know about the safest mask on the market.
Be on the lookout for counterfeit masks
According to the Centers for Disease Control and Prevention (CDC), 60% of respirator masks sold in the United States are counterfeit. It's not that all of these masks are useless, but they are not approved by the National Institute for Occupational Safety and Health (NIOSH) or the Food and Drug Administration (FDA). NIOSH and FDA regulations require mask manufacturers to go through rigorous testing methods to ensure that they effectively prevent the transmission of COVID-19.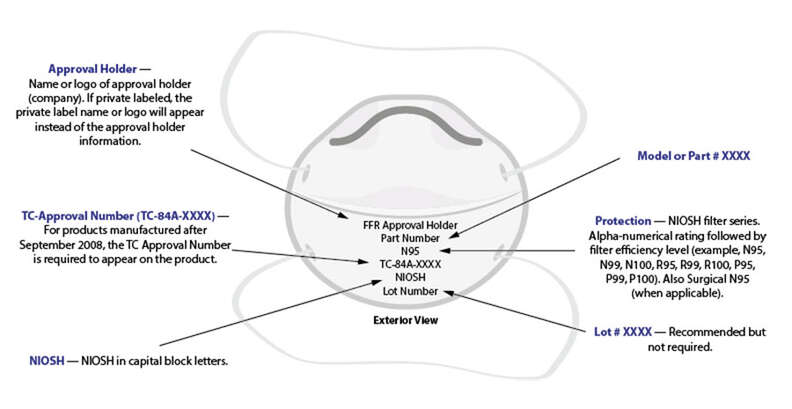 Masks that NIOSH approves are listed on this index and include the product number, manufacturer or supplier name, and distribution availability. The FDA has a searchable index where you can determine if a mask is FDA-approved by the establishment name, product registration number, and other identifiers.
Thrillist will include a list of approved NIOSH-approved N95s and FDA-approved KN95s below, but if you purchase masks that are not included, you can refer to the index. If you want to avoid buying counterfeit masks, the CDC also keeps a list of mismarketed masks. NIOSH has not approved any respiratory masks specifically for children, so any mask manufacturers that advertise otherwise sell counterfeit masks.
Where you can purchase your KN95s and N95s
Now that you know that counterfeit masks exist, here is where to buy the real ones, as verified by the CDC.
3M
NIOSH and the FDA have approved this brand. On its website, you can input your zip code or location to find stores nearby where they are in stock. They are sold at stores like Staples, Lowe's, Ace Hardware, and Walmart. You are more likely to find them stocked on shelves at stores near you than you are to find them online.
Bona Fide Masks
This site sells FDA-approved KN95s in various sizes and colors and ships from the US, meaning less wait time if you live in the country. You can get a 12 pack of N95s for $11.
N95 MASK Co
Some masks listed on this site are more expensive, but you can purchase a 20-pack of NIOSH-approved masks for $60.
DMB Supply
This site sells KN95s that include FDA approval and even shows you how to search the FDA database to confirm authenticity. As of this writing, a pack of 20 masks is on sale for $19.95.
WellBefore
As of this writing, WellBefore is actually not selling any masks due to the high volume of orders they have received. But the site is popular for a reason: They sell KN95s, N95s, COVID-19 test kits, and other PPE. It's worth bookmarking the site and coming back to it later.
N95 Medical Supplies
This site is also experiencing a high volume of customers but is still accepting orders. According to the site, be prepared for order delays of one to two days. You can purchase a pack of 40 N95 masks from this site for $99, which skews a bit higher than others on the list. These are NIOSH approved and include the NIOSH certification on the site. You can purchase 50 FDA-approved KN95s for $54.99 from the site as well.
How to reuse KN95s and N95s
Unlike surgical masks, which are designed to be worn once and then disposed of, the KN95 and N95 masks can have a longer shelf life. Dr. Cassandra M. Pierre, an infectious disease doctor and the medical director of public health at Boston Medical Center, told Health that the lifespan of your mask depends on a few different factors.
How long are you wearing your mask?
If you are wearing your mask for short periods or not coming into close contact with other people, you can wear it for up to a week before tossing it. Don't reuse a mask you've worn while positive for or exposed to COVID-19. Do not share masks.
If you are wearing a KN95 in a high-risk environment like working at a hospital, you should be disposing of your mask daily. If you are wearing it in a low-risk environment like an outdoor park, you can wear your mask more than once.
How well does your mask fit?
One factor that makes masks more effective is how well they fit your face. KN95s and N95s are shaped so that they will fit snugly on your face. If you are wearing your mask and it starts feeling loose or slipping down your face, it is time to swap it out for a new one.
Maybe this seems like an obvious one, but you should replace it if your mask is dirty with makeup, sweat, or any moisture. To extend the shelf life of your mask, make sure you take it off with clean hands and try to handle the mask by its straps only.
How are you storing the mask?
Just like you don't want to wear a sweaty, dirty mask, you also don't want to store your mask in a place where it can be susceptible to damage and germs. "Putting it in a paper bag so it's covered and not getting mixed up with other things can help, along with helping it dry out," Pierre told Health. North Dakota Health issued similar guidance to employees on how to store them. Storing them in a brown paper bag in a dry place works.
Like with all other COVID-19 safety measures, it is essential to regularly check for updates on policies and practice your best judgment. Masks are only one tool to help slow the spread and keep yourself and others protected against this virus. Stay safe and shop smart!