Rescue Dog Rules Dog Show by Stealing Obstacles, Hiding in Tunnels & Having a Good Time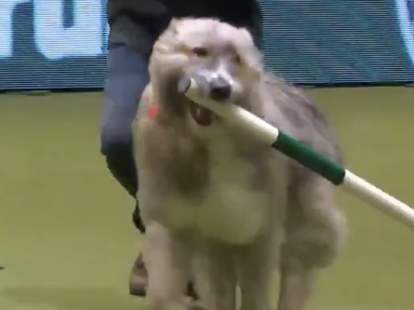 Some performers defy categorization. They rise above their contemporaries to levels that serve to inspire generations to come. They're just uniquely themselves. Prince. Bjork. Michael Jordan. Wayne Gretzky. Kratu the rescue dog. 
The latter of those made a return appearance at the U.K. Kennel Club's Crufts competition after its rule-defying performance went viral last year. The dogs in the agility competition are given obstacles to conquer. They run through tunnels, leap over hurdles, and otherwise showcase their grace and style. However, Kratu prefers to hide in tunnels and run around like, well, like a dog. The return performance on March 6 in Birmingham has already been viewed more than 1.6 million times, and it was truly a show-stopper.
The 2020 competition was Kratu's final appearance, so the dog really made the most of the opportunity, stealing a pole and playing rigorous games of hide-and-seek in seemingly random order. Kratu's swansong was truly a thing of beauty.
Watch the full thing in the tweet from Crufts above.
Sign up here for our daily Thrillist email and subscribe here for our YouTube channel to get your fix of the best in food/drink/fun.