Get a Dozen Krispy Kreme Donuts for 80 Cents on July 14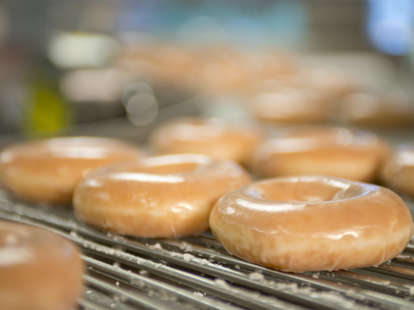 There's only one thing better than donuts: ridiculously cheap donuts. The good news is that the folks at Krispy Kreme seem to have a pretty good understanding of that particular Law of the Universe and are deploying it with a nationwide deal today: a dozen donuts for just 80 cents.
Here's how it works:
The logic here is simple: Krispy Kreme's been around for a long time -- 80 years, in fact! Its first location opened for business July 13, 1937, and the chain started selling its signature sugary delight, the "Original Glazed" donut, the following day, July 14. So today, Friday, July 14, 2017, Krispy Kreme will blow out its birthday celebration at all locations in the United States and Canada buy offering a deal: buy any dozen donuts at Krispy Kreme for regular price, and you can get a second dozen for 80 cents.
It gets better: Shaquille O'Neal, he of basketball and viral-toe fame, is also involved, since he's a Krispy Kreme franchisee. It looks like he spent a fun day making made this kooky video where he surprised Krispy Kreme customers with his magnetic 7'1" presence.
While you enjoy your donut deal, it's a good idea to strategize; you've got a whole dozen donuts to buy at regular price. Here are my suggestions: Krispy Kreme's chocolate iced glazed donut is one of the tastiest sugar morsels ever designed by human hands. Its lemon-filling glazed donut sparks with citrusy, balanced delight. And its iconic, delicious Cake Batter donuts, an old favorite, have just been re-released, and seem like a fitting complement to a sweet birthday. Happy 80th, indeed.
Sign up here for our daily Thrillist email and subscribe here for our YouTube channel to get your fix of the best in food/drink/fun.