Krispy Kreme and Jelly Belly Are Unleashing Donut-Flavored Jelly Beans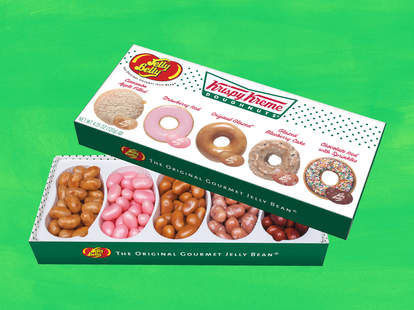 Have you ever looked at a fresh box of donuts and thought to yourself, "Oh, man, I wish I could eat these things in jelly bean form, too"? No? We haven't either. But it looks like the sugar-addled maniacs over at Krispy Kreme and Jelly Belly have teamed up to create new donut-flavored jelly beans anyway.
The new jelly beans/donut capsules were first spotted by avid junk food fans at the 2017 Sweets & Snacks Expo in Chicago last week. They come in five flavors taken right from Krispy Kreme's donut menu: Original Glazed, Strawberry Iced, Cinnamon Apple Filled, Glazed Blueberry Cake, and Chocolate Iced With Sprinkles. The packages are even designed to resemble a box of Krispy Kreme donuts for good measure.
Although it looks like attendees had a chance to try the donut-flavored jelly beans at the expo, you'll have to wait a few more months before you can get your hands on them. When reached via email on Tuesday, a Krispy Kreme spokesperson said the jelly beans won't hit store shelves until sometime this fall.
Until then, you can pass the time by trying to come up with reasons to eat Strawberry Iced donut-flavored jelly beans instead of an actual Strawberry Iced donut. Or you can go out and get a box of donuts like a normal person. By the way, National Donut Day is Friday, June 2. Celebrate responsibly.
Sign up here for our daily Thrillist email, and get your fix of the best in food/drink/fun.
Tony Merevick is Cities News Editor at Thrillist and is really only interested in how the classic glazed ones taste. Send news tips to news@thrillist.com and follow him on Twitter @tonymerevick.