Krispy Kreme Just Brought Back One of Its Best Donuts After 3 Years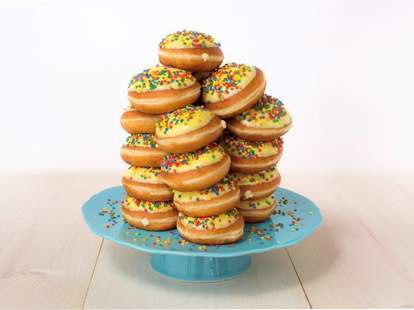 For those who don't know, Krispy Kreme's Birthday Cake Batter donuts are an old favorite. The only reason they didn't get a haiku in Thrillist's ranking of Krispy Kreme's flavors is because they only stuck around for a limited run in 2014. Now the company confirms, they're back with a toothy vengeance, and the flavor is here to stay. Permanently. 
Krispy Kreme calls the Cake Batter its "ultimate party donut." The yeasty snack is packed with a mixture of gooey yellow cake batter and the store's trademark white creme filling, and capped with a yellow icing chapeau decked out with confetti sprinkles. It's a sugar bomb you can hold in your hand one minute and find gone in the next.
Per Krispy Kreme's press release, the donut "will remain a menu item at participating shops in the United States and Canada." It was originally released alongside a chocolatey "Brownie Batter" donut in 2014, but that one didn't earn a second life this time around. (But that's fine; anecdotally, the Cake Batter is better.)