Krispy Kreme Is Collaborating with a Cookie Company for Its New Donuts
Krispy Kreme is bringing its Biscoff cookie-inspired donuts to the US.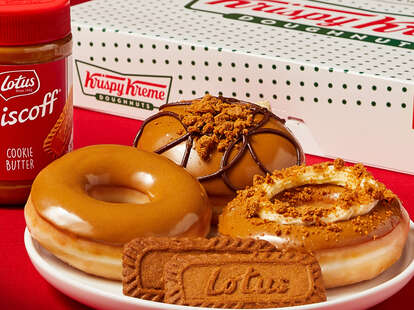 Frequent Delta passengers will find familiar flavors in the latest donut release from Krispy Kreme.
The donut chain has unveiled the Biscoff Doughnut Collection, a series of three new donuts made in collaboration with Biscoff that will be released in the US for the first time. The trio of cookie-inspired donuts will hit Krispy Kreme locations across the country on January 9.
The Krispy Kreme donuts made with Lotus Biscoff are available in other countries around the world, but this is the first time you'll find them in the US.
The new donuts include the Biscoff Iced Doughnut, which is an Original Glazed donut dipped in Biscoff Cookie Butter icing. You will also find the Biscoff Cookie Butter Cheesecake Doughnut, which is an Original Glazed donut dipped in Biscoff Cookie Butter icing and topped with cream cheese buttercream and Biscoff crumble. Lastly, you can pick up a Biscoff Cookie Butter Kreme Filled Doughnut, which is a shell donut filled with Biscoff Cookie Butter Kreme filling and dipped in Biscoff Cookie Butter icing before getting topped with dark chocolate icing and Biscoff Crumble.
This batch of limited-time-only donuts will be delivered fresh daily to select grocery stores near Krispy Kreme stores as well, including many Walmart, Kroger, Food Lion, Publix, Stater Brothers, and Wakefern locations.
You can take that domestic flight nostalgia a step further. If you buy any of the Krispy Kreme Biscoff donuts at an actual Krispy Kreme, you'll get a free Biscoff cookie packet. It'll be like you just finished a layover at MSP.