Krispy Kreme Is Unleashing a New, 'One-of-a-Kind' Glazed Donut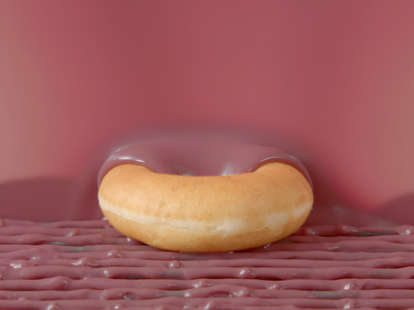 Courtesy of Krispy Kreme
Courtesy of Krispy Kreme
When you think of Krispy Kreme, there's a good chance the chain's original glazed donut is the first thing that comes to mind. It's a classic, if not an icon in the world of sugary dough rings. But that hasn't stopped Krispy Kreme from changing it up with new, limited edition flavors -- pumpkin spice, chocolate, and lemon, among others -- in recent years. The latest flavor: blueberry.
Krispy Kreme officially unveiled the Blueberry Glaze Doughnut (they spell donut the old-school way), billing the special and super-seasonal take on the original glazed as "one-of-a-kind." The new donut starts off exactly like the original version, but instead of sporting the usual plain glaze, it gets smothered by a waterfall of "mouth-watering" blueberry glaze, according to a press release. The resulting donut has a deep pink and purple-y hue.
Just like the aforementioned lemon version, the Blueberry Glaze will only be available at Krispy Kreme locations across the United States and Canada for a short time. Specifically, you can get your donut-grubbing hands on them for just a little less than a week -- Monday, May 21 through Sunday, May 27 -- while supplies of the blueberry glaze last. Sadly, it seems like the blueberry glaze waterfall will only run for so long before going dry.
Then again, at this rate you can safely expect Krispy Kreme to unleash another-limited edition flavor in the near future if you miss out on this one.
Sign up here for our daily Thrillist email and subscribe here for our YouTube channel to get your fix of the best in food/drink/fun.

Tony Merevick is Senior News Editor at Thrillist and blueberry is one of his all-time favorite flavors. Send news tips to news@thrillist.com and follow him on Twitter @tonymerevick.