Krispy Kreme Is Offering a Special Donut Deal Today for Friday the 13th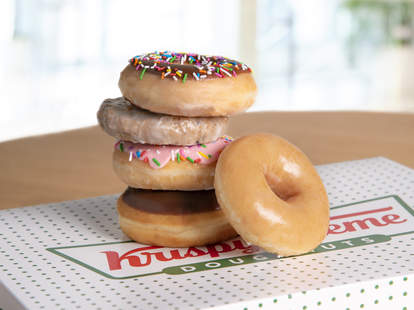 If you need to convince yourself donuts are a good idea on Friday morning, the list of reasons could be lengthy. Among the items that should be on your list: They're delicious, your coworkers will owe you one, and donuts might repel jinxes, which is important on Friday the 13th. Maybe. You don't know. 
Here's another line item to add to your list. Krispy Kreme is running a promotion for Friday the 13th. You can get two dozens donuts for $13. If you don't frequent the store and aren't sure if that's a good deal, we called around to Krispy Kremes across the country. A dozen Original Glazed donuts ranged from $18.99 (San Francisco, California) to $8.99 (Council Bluffs, Iowa). A dozen assorted donuts went from $18.99 (San Francisco) to $11.99 (Council Bluffs). So, $13 for two dozen is verging on being in buy-one-get-one-free territory. 
The deal, available at participating locations in the US, allows you to pick up either two dozen Original Glazed donuts or a dozen Original Glazed and a dozen assorted donuts. You can redeem the deal up to two times before they start charging you the regular price. Additionally, it's only redeemable in-store at Krispy Kreme locations, and you'll also need to show the cashier this barcode to redeem.
It may have been tough getting back to normal after a short week, but starting the day with a donut might help power you through the week's last gasp. Also, don't discount the possibility that donuts are like an amulet that repels evil on Friday the 13th. Anything is possible, and you can't be too safe.
Sign up here for our daily Thrillist email and subscribe here for our YouTube channel to get your fix of the best in food/drink/fun.