Krispy Kreme's Giving Healthcare Workers, First Responders Dozens of Free Donuts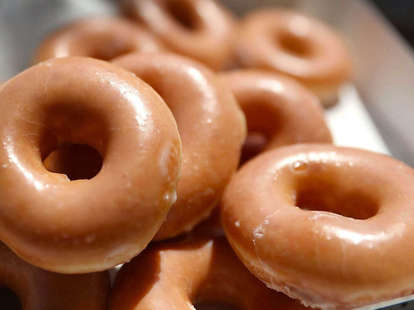 For the vast majority of us, our role in flattening the curve is simple: stay indoors and practice good social distancing. But while you're doing your job (i.e. learning Tik Tok dances, baking sourdough bread, and playing the Nintendo Switch six feet apart from others), our healthcare professionals and first responders are out there fighting on the frontlines.
There aren't enough free carbs in the world to thank them for their part, but Krispy Kreme is hoping a dozen donuts will at least get our message of gratitude across. Between March 30, aka National Doctors' Day, and the end of National Nurses Week (which runs May 6 through May 12) the sugary dough ring maker is giving away dozens of free original glazed donuts to healthcare professionals.
"Just go to a Krispy Kreme drive-thru, tell us what you need and show us your employer badge. That's it," the company said in a statement Thursday. "Pick up some free dozens on the way to work for you and your colleagues, or maybe a free dozen on your way home to family after a long shift."
Krispy Kreme's not the only chain giving back, either. Earlier this week, Starbucks announced its own promotion, offering free iced and hot coffee to frontline workers across the United States and Canada. According to the company, "any customer who identifies as a first responder or frontline worker supporting our healthcare system" can snag one tall brewed coffee per visit between March 25 and May 3. Eligible workers include police officers, firefighters, paramedics, doctors, nurses, researchers, and hospital/medical staff.
So if you're a worker who qualifies for the deals, you know what to do. Coffee and a donut.
Sign up here for our daily Thrillist email and subscribe here for our YouTube channel to get your fix of the best in food/drink/fun.
Megan Schaltegger is a staff writer at Thrillist.