Krispy Kreme's Original Glazed Donuts Are Going Dark for the Eclipse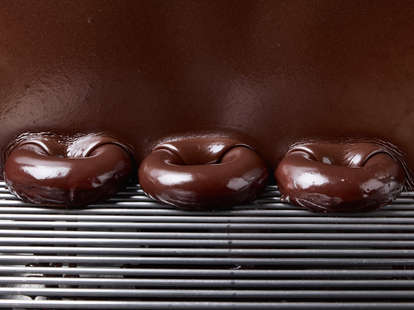 Courtesy of Krispy Kreme
Courtesy of Krispy Kreme
In just the last nine months alone, Krispy Kreme has unleashed green and pumpkin spice-flavored versions of its classic glazed donut in celebration of St. Patrick's Day and fall, respectively. Now, the company is again taking the rare step of altering its signature sugary dough ring recipe -- this time, by making the donuts dark and chocolatey for the total solar eclipse.
On Wednesday, Krispy Kreme said its Original Glazed Doughnuts will be "eclipsed" by an all-new chocolate glaze — you know, sort of like the sun and the moon — in celebration of the historic event on August 21. The limited edition donuts will be available at most of its locations on the day of the eclipse as well as special "Hot Light" evening hours on August 19 and August 20, according to a press release. The brief change is the first time the company has offered a chocolate version of the iconic donut in its 80-year history.
The sugary eclipse treat is exactly as simple as it sounds: a regular glazed donut with a chocolate glaze instead of the regular glaze. Krispy Kreme said the smells are good, too, thanks to the chocolate glaze waterfalls that'll smother the freshly fried donuts on conveyor belts at participating stores. Best of all, you don't need special glasses to look at them.
All said, if you end up getting a box of the chocolate donuts, you can probably expect it to have another thing in common with the eclipse: it'll be gone in a matter of minutes.
Sign up here for our daily Thrillist email and subscribe here for our YouTube channel to get your fix of the best in food/drink/fun.

Tony Merevick is Senior News Editor at Thrillist and has yet to taste one of Krispy Kreme's special glazed donuts, but then again, the original is fine the way it is. Send news tips to news@thrillist.com and follow him on Twitter @tonymerevick.