At this point in your life, the privacy of your cubicle is arguably the best place in the world to devour multiple Krispy Kreme donuts. It's a judgement-free zone where you can let the flakey glaze crumbs accumulate on your shirt with abandon. But soon, the classic donut maker will open an even better place for you to go all Homer Simpson on a dozen Original Glazed: a 4,500-square-foot flagship store in NYC's Times Square. 
On Monday, Krispy Kreme announced plans to build its first-ever flagship store, featuring the world's largest "Hot Light," stadium-style dining in the world's largest Krispy Kreme "doughnut box," and fresh donuts available 24/7, among other flashy amenities fitting for an over-the-top Times Square store, according to a spokesperson. The shiny citadel of crispy fried dough will open at 1601 Broadway (the corner of 48th Street and Broadway) sometime in early 2020. Nearby spin classes are already expanding to accommodate new members. Well, probably.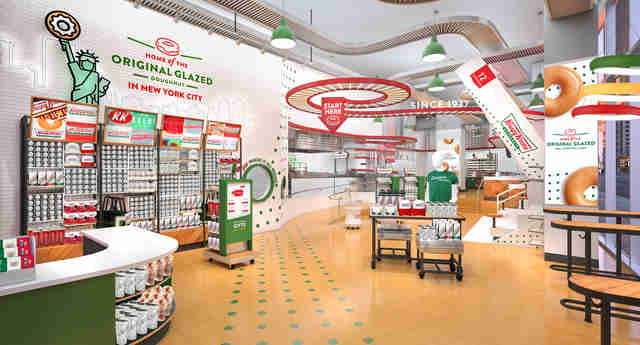 The flagship store will also feature Krispy Kreme's signature conveyor belt donut-making process, which you can salivate over at just about any of its full-size locations, in a new, immersive way. You'll be able to see workers mixing ingredients, follow batches of the fried dough rings as they pas under the glaze waterfall, and interact with digital experiences, too, the company said. The giant retail space will also be home to special Krispy Kreme merch. But perhaps the most exciting part of the store, though -- at least, for New Yorkers -- is an exterior walk-up window for quick and convenient donut orders. On the other hand, succumbing to your late-night cruller cravings will be dangerously easy as a result.
"Our direction is to be the most loved sweet treat brand in the world," Michael Tattersfield, CEO and president of Krispy Kreme, said in a statement. "In the most iconic city in the world, the Krispy Kreme Times Square Flagship will showcase our brand on the global stage and inspire customer wonder."
Krispy Kreme already expects this kreme-filled castle to serve more customers per year than any of its other locations around the world. So, uh, maybe stick with your cubicle if you want to be alone with your dozen. 

Sign up here for our daily Thrillist email and subscribe here for our YouTube channel to get your fix of the best in food/drink/fun.