Krispy Kreme Is Giving Away Free Donuts Today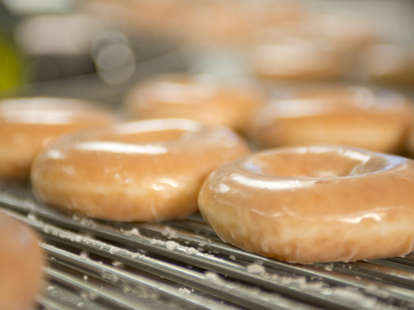 Krispy Kreme is giving away free donuts, but you might have to part with a bit of your dignity to get them. And by part with your dignity, we mean wear a damn pirate costume out in public. Or at least talk like a pirate.
Here's the deal:
As in previous years, Krispy Kreme is celebrating International Talk Like a Pirate Day on Monday, September 19th, by handing out a bounty of its signature sugary dough rings to customers who talk and dress like a pirate. Participating Krispy Kreme locations will give you one free Original Glazed donut if you talk to them like a pirate, or a whole dozen Original Glazed donuts if you show up dressed like a pirate, according to the company's Facebook event page. You don't even to buy anything.
To qualify for the dozen donuts, you have to put at least a little effort into your pirate costume by wearing at least three pirate items like an eye patch, pirate hat, or a bandana although weapons are strictly forbidden for obvious reasons. Or you can use Krispy Kreme's new custom pirate filter to "digitally 'dress' like a pirate" instead, and simply show the image from your Snapchat at the counter to get your free donuts, which sounds way easier than digging up your old eye patch.
So, if ye enjoy free donuts and love some good rum-slurred speech, ye know what to do.
Sign up here for our daily Thrillist email, and get your fix of the best in food/drink/fun.
Tony Merevick is Cities News Editor at Thrillist and may or many not talk like a pirate every day. Send news tips to news@thrillist.com and follow him on Twitter @tonymerevick.