Krispy Kreme Is Giving Out Up to 5 Dozen Free Donuts to Healthcare Workers
The sugary dough ring chain is saying thank you to healthcare workers with tons of free sugary dough rings.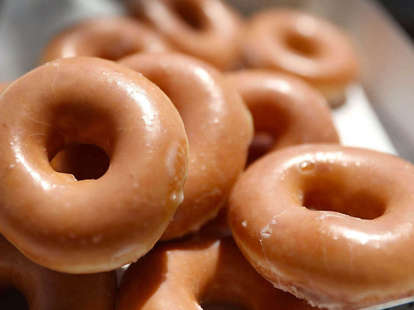 What says thank you even more than one free donut? An entire tower of free donuts.
Healthcare workers will be able to construct any kind of breakfast confectionary edifice their heart desires on Monday, May 11. Krispy Kreme is giving healthcare workers up to five dozen free donuts as a way of saying thank you for all their hard work throughout the COVID-19 pandemic. That's 60 Original Glazed Doughnuts available to all healthcare workers, including nurses, who are being honored by dozens of businesses for National Nurses Week.
Though, if you want a donut other than the Original Glazed, you'll have to buy that yourself.
All you need to do to take advantage of the healthcare worker promotion is to swing through a Krispy Kreme drive-thru and flash an employer ID. Then let them know how many of the Original Glazed donuts you'd like to drive off with. Get a bunch, and bring them into work. Nurses are already heroes of the crisis, but they can be heroes to their coworkers too when they show up with a buttload of fresh donuts.
Sign up here for our daily Thrillist email and subscribe here for our YouTube channel to get your fix of the best in food/drink/fun.