Krispy Kreme Is Handing Out Free Green Donuts Today for St. Patrick's Day
You don't need to do much for the freebie, as long as you act quickly!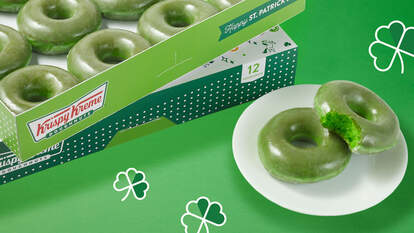 Krispy Kreme has lots of goodies lined up for St. Patrick's Day right now—like its new fantastical Luck O' the Doughnuts Collection—but one classic tradition is back for two days only to close out the holiday in style.
On Tuesday, March 16, and Wednesday, March 17, which is St. Patrick's Day proper, Krispy Kreme fans around the US can order O'riginal Glazed Doughnuts. They're identical in flavor to standard glazed donuts but dyed entirely green—inside and out—in the spirit of St. Pat.
The festive Irish look is fun, of course, but the real win here is that you can score a free green donut on both days that they're available, which means there's still time to get one before they disappear again.
All you have to do for the free O'riginal Glazed Doughnut is show up wearing green and it's yours. You can walk into the store or roll up in the drive-thru, it makes no difference to employees: As long as they can see your outfit, you can get the freebie, no purchase necessary.
If you haven't figured it out by now, it pays to live near a Krispy Kreme. Once St. Patrick's Day is over, we'll have to cross our fingers that another Chocolate Glaze Friday comes soon to keep the fun alive. Something about scarfing a limited-edition donut is so incredibly enticing.
MORE: Tim Hortons Is Giving Out Free Breakfast Sandwiches All Week
Sign up here for our daily Thrillist email and subscribe here for our YouTube channel to get your fix of the best in food/drink/fun.