Krispy Kreme Is Handing Out Free Pumpkin Spice Donuts Today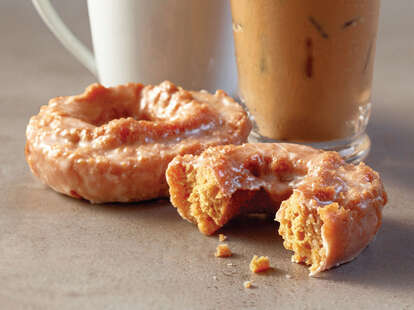 Edited - Courtesy of Krispy Kreme
No matter how much you enjoy donuts and the (oft-ridiculed) pumpkin spice flavor, loving either of them can be hard if other people are watching. Pumpkin spice, they say, is played out. Donuts, they say, are not a viable form of nourishment. But the fact is, when fall comes to town, nothing tastes better than the artificial sweet orange squash flavor. And at pretty much any point in being alive, nothing tastes better than a donut, so give yourself what you want.
The perfect opportunity is this Tuesday, September 18: Krispy Kreme is celebrating the return of its Pumpkin Spice Cake Donut by giving out one of the seasonal donuts for free with any purchase. If you haven't had one before, it's basically an old-fashioned cake donut with the addition of pumpkin spice flavors and the classic Krispy Kreme glaze. It tastes like fall itself was vigorously grated onto the dough. And also like a donut.
But if you're prepared, you don't even have to make another purchase. Krispy Kreme rewards members are entitled to one entirely for free. If you aren't a member yet, just sign up online and claim your donut.
With the money you saved, you can buy a second one.
h/t Chew Boom
Sign up here for our daily Thrillist email and subscribe here for our YouTube channel to get your fix of the best in food/drink/fun.